Epiphany in United Kingdom
Quick Facts
Epiphany, or Twelfth Night, marks the visit of the three wise men, or Magi, to Jesus and Jesus' baptism, which was performed by John the Baptist. This event is observed in the United Kingdom on January 6 each year.
Name
Epiphany
Alternative name
Three Kings' Day
Epiphany 2014
Monday, January 6, 2014
Epiphany 2015
Tuesday, January 6, 2015
List of dates for other years
Epiphany, or Twelfth Night, marks the end of the Christmas and New Year season for most people in the United Kingdom (UK). It is also an occasion for Christians to celebrate the three kings' (or wise men's) visit to Jesus shortly after his birth and Jesus' baptism.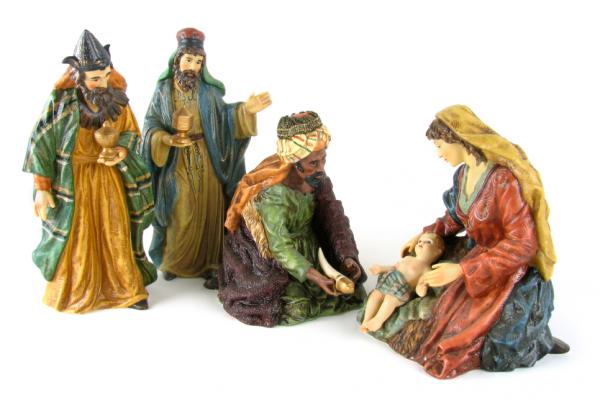 ©iStockphoto.com/duckycards
What do people do?
Some Christians attend special church services on January 6. Figures representing the three wise men, or the Magi, are placed in some crib scenes on Epiphany. This is especially true of crib scenes in or close to churches or church schools.
People in the UK remove their Christmas decorations from their homes, schools and workplaces on or before Twelfth Night. Many people believe that it is bad luck to display Christmas decorations after January 6. Decorations in town centers and shopping malls may stay on display for longer, as it can take many days or weeks to remove them all. The lights in these decorations are not generally turned on after January 6.
Some people hold Twelfth Night parties. They may serve a hot spicy punch called wassail or a Twelfth Night cake. A Twelfth Night cake usually contains one whole dried pea and one whole dried bean. The people who get the pea and the bean in their portion of cake are crowned king and queen for the evening.
Public life
Epiphany is not a bank holiday in the United Kingdom.
Background
Midwinter festivals and parties have been held in the islands that now form the United Kingdom for thousands of years. When people began to convert to Christianity, aspects of the original festivals were incorporated into Christian celebrations. The Midwinter festival lasting for many days became the Twelve Days of Christmas. This period begins on Boxing Day on December 26 and lasts until the Twelfth Night. Hence, Epiphany, or Twelfth Night, marks the end of the Christmas and New Year season and the start of a New Year and church season.
About Epiphany in other countries
Read more about
Epiphany
.
Epiphany Observances
| Weekday | Date | Year | Name | Holiday type | Where it is observed |
| --- | --- | --- | --- | --- | --- |
| Sat | Jan 6 | 1990 | Epiphany | Christian | |
| Sun | Jan 6 | 1991 | Epiphany | Christian | |
| Mon | Jan 6 | 1992 | Epiphany | Christian | |
| Wed | Jan 6 | 1993 | Epiphany | Christian | |
| Thu | Jan 6 | 1994 | Epiphany | Christian | |
| Fri | Jan 6 | 1995 | Epiphany | Christian | |
| Sat | Jan 6 | 1996 | Epiphany | Christian | |
| Mon | Jan 6 | 1997 | Epiphany | Christian | |
| Tue | Jan 6 | 1998 | Epiphany | Christian | |
| Wed | Jan 6 | 1999 | Epiphany | Christian | |
| Thu | Jan 6 | 2000 | Epiphany | Christian | |
| Sat | Jan 6 | 2001 | Epiphany | Christian | |
| Sun | Jan 6 | 2002 | Epiphany | Christian | |
| Mon | Jan 6 | 2003 | Epiphany | Christian | |
| Tue | Jan 6 | 2004 | Epiphany | Christian | |
| Thu | Jan 6 | 2005 | Epiphany | Christian | |
| Fri | Jan 6 | 2006 | Epiphany | Christian | |
| Sat | Jan 6 | 2007 | Epiphany | Christian | |
| Sun | Jan 6 | 2008 | Epiphany | Christian | |
| Tue | Jan 6 | 2009 | Epiphany | Christian | |
| Wed | Jan 6 | 2010 | Epiphany | Christian | |
| Thu | Jan 6 | 2011 | Epiphany | Christian | |
| Fri | Jan 6 | 2012 | Epiphany | Christian | |
| Sun | Jan 6 | 2013 | Epiphany | Christian | |
| Mon | Jan 6 | 2014 | Epiphany | Christian | |
| Tue | Jan 6 | 2015 | Epiphany | Christian | |
| Wed | Jan 6 | 2016 | Epiphany | Christian | |
| Fri | Jan 6 | 2017 | Epiphany | Christian | |
| Sat | Jan 6 | 2018 | Epiphany | Christian | |
| Sun | Jan 6 | 2019 | Epiphany | Christian | |
| Mon | Jan 6 | 2020 | Epiphany | Christian | |
Other holidays in January 2014 in United Kingdom
Other calendars
Related links