Assumption of Mary in United States
Quick Facts
Assumption Day is a Christian observance in the United States that is held annually on August 15. Catholics observe the Dormition (falling asleep) or the day that the Blessed Virgin Mary was received into heaven.
Local names
| Name | Language |
| --- | --- |
| Assumption of Mary | English |
| La Asunción de la Virgen | Spanish |
| חג עליית מרים | Hebrew |
| انتقال العذراء | Arabic |
| 성모 승천 | Korean |
| Mariä Himmelfahrt | German |
Assumption of Mary 2014
Friday, August 15, 2014
Assumption of Mary 2015
Saturday, August 15, 2015
List of dates for other years
Catholic churches in the United States celebrate the feast of the Assumption to honor the Virgin Mary's death and her rise into heaven on August 15 each year.
The Catholic and Orthodox Christians view the Assumption as the Virgin Mary's heavenly birthday that is now observed as a Holy Day of Obligation – a day when some Christian denominations are obliged to attend mass.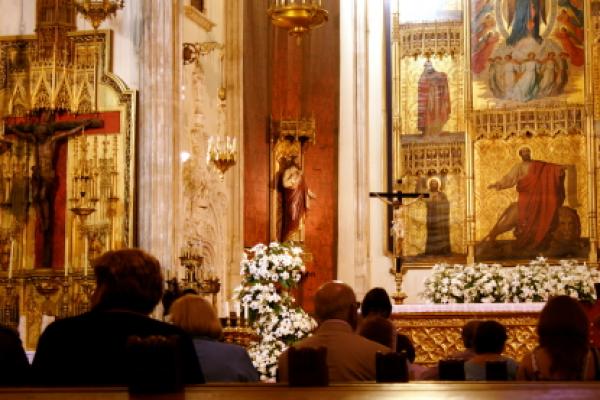 ©iStockphoto.com/sagaYago
What Do People Do?
Many Christians in the United States attend mass (church service) and have big feasts to celebrate Mary's rise into heaven on Assumption Day. Although it is not celebrated as extravagantly as other countries, there are many states that have festivals with music, dancing, food vendors, artwork, parades and firework shows to celebrate this event.
One of the largest Assumption Day celebrations is in Cleveland, Ohio, where there is a four-day festival that starts on August 12. The festival celebrates the Feast of Assumption in the city's Little Italy neighborhood.
Public Life
Assumption Day, which is on August 15, is not a public holiday in the United States so schools, government offices and businesses are open. Public transport providers run to their usual schedules. In New York City, the laws regarding which side of the street you can park on are suspended for Assumption Day.
Background
Assumption Day is considered a Holy Day of Obligation, but if it falls on a Saturday or on a Monday, it is not obligatory by the church to attend mass. This was amended in the church calendar by US (United States) bishops in 1991.
About Assumption of Mary in other countries
Read more about
Assumption of Mary
.
Assumption of Mary Observances
| Weekday | Date | Year | Name | Holiday type | Where it is observed |
| --- | --- | --- | --- | --- | --- |
| Wed | Aug 15 | 1990 | Assumption of Mary | Christian | |
| Thu | Aug 15 | 1991 | Assumption of Mary | Christian | |
| Sat | Aug 15 | 1992 | Assumption of Mary | Christian | |
| Sun | Aug 15 | 1993 | Assumption of Mary | Christian | |
| Mon | Aug 15 | 1994 | Assumption of Mary | Christian | |
| Tue | Aug 15 | 1995 | Assumption of Mary | Christian | |
| Thu | Aug 15 | 1996 | Assumption of Mary | Christian | |
| Fri | Aug 15 | 1997 | Assumption of Mary | Christian | |
| Sat | Aug 15 | 1998 | Assumption of Mary | Christian | |
| Sun | Aug 15 | 1999 | Assumption of Mary | Christian | |
| Tue | Aug 15 | 2000 | Assumption of Mary | Christian | |
| Wed | Aug 15 | 2001 | Assumption of Mary | Christian | |
| Thu | Aug 15 | 2002 | Assumption of Mary | Christian | |
| Fri | Aug 15 | 2003 | Assumption of Mary | Christian | |
| Sun | Aug 15 | 2004 | Assumption of Mary | Christian | |
| Mon | Aug 15 | 2005 | Assumption of Mary | Christian | |
| Tue | Aug 15 | 2006 | Assumption of Mary | Christian | |
| Wed | Aug 15 | 2007 | Assumption of Mary | Christian | |
| Fri | Aug 15 | 2008 | Assumption of Mary | Christian | |
| Sat | Aug 15 | 2009 | Assumption of Mary | Christian | |
| Sun | Aug 15 | 2010 | Assumption of Mary | Christian | |
| Mon | Aug 15 | 2011 | Assumption of Mary | Christian | |
| Wed | Aug 15 | 2012 | Assumption of Mary | Christian | |
| Thu | Aug 15 | 2013 | Assumption of Mary | Christian | |
| Fri | Aug 15 | 2014 | Assumption of Mary | Christian | |
| Sat | Aug 15 | 2015 | Assumption of Mary | Christian | |
| Mon | Aug 15 | 2016 | Assumption of Mary | Christian | |
| Tue | Aug 15 | 2017 | Assumption of Mary | Christian | |
| Wed | Aug 15 | 2018 | Assumption of Mary | Christian | |
| Thu | Aug 15 | 2019 | Assumption of Mary | Christian | |
| Sat | Aug 15 | 2020 | Assumption of Mary | Christian | |
Other holidays in August 2014 in United States
Other calendars
Related links