California Admission Day in United States
Quick Facts
California Admission Day is an annual legal observance in California, in the United States.
Local names
| Name | Language |
| --- | --- |
| California Admission Day | English |
| Día de la admisión de California | Spanish |
| יום הכניסה קליפורניה | Hebrew |
| يوم القبول اية كاليفورنيا | Arabic |
| 캘리포니아 입학 일 | Korean |
| Tag der Aufnahme Kaliforniens in die Union | German |
California Admission Day 2014
Tuesday, September 9, 2014
California Admission Day 2015
Wednesday, September 9, 2015
List of dates for other years
September 9 is California Admission Day in the United States. It celebrates the time when California became the 31st state in 1850.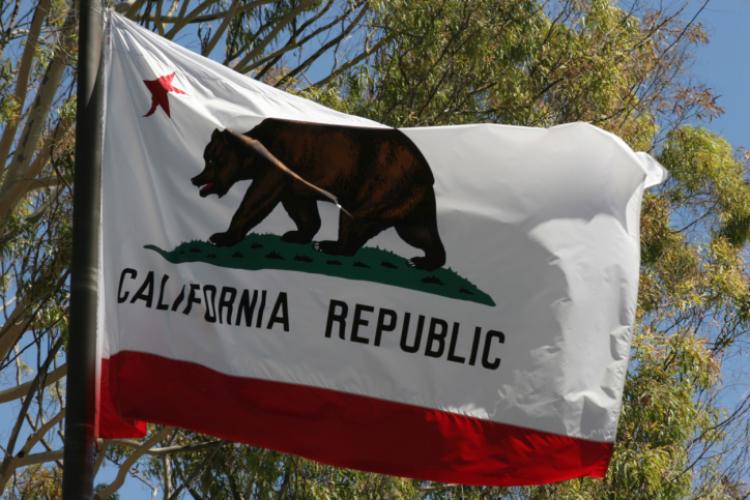 Celebrate California Admission Day
Some state public offices, organizations, businesses, museums and schools have special events to celebrate the state's history on this day.
Public life
California Admission Day is a legal observance but most public offices, schools and other businesses generally do not close.
About California Admission Day
In 1849, leaders from around the future state of California drafted California's first constitution, which was approved on November 13 that year by a vote of 12,064 to 811. In January, 1850, the State Legislature began its first two-year session. On September 9, 1850, California became the 31st entry into the Union.
On September 9, 1924, California's "Bear Flag" flew over the White House to honor the date of California's admission. In 1984, however, Governor George Deukmejian signed legislation changing its observance to a "personal" option. In recent times, Californian governors have made public proclamations, inviting the public to observe the day.
California Admission Day Observances
| Weekday | Date | Year | Name | Holiday type | Where it is observed |
| --- | --- | --- | --- | --- | --- |
| Sun | Sep 9 | 1990 | California Admission Day | Local observance | California |
| Mon | Sep 9 | 1991 | California Admission Day | Local observance | California |
| Wed | Sep 9 | 1992 | California Admission Day | Local observance | California |
| Thu | Sep 9 | 1993 | California Admission Day | Local observance | California |
| Fri | Sep 9 | 1994 | California Admission Day | Local observance | California |
| Sat | Sep 9 | 1995 | California Admission Day | Local observance | California |
| Mon | Sep 9 | 1996 | California Admission Day | Local observance | California |
| Tue | Sep 9 | 1997 | California Admission Day | Local observance | California |
| Wed | Sep 9 | 1998 | California Admission Day | Local observance | California |
| Thu | Sep 9 | 1999 | California Admission Day | Local observance | California |
| Sat | Sep 9 | 2000 | California Admission Day | Local observance | California |
| Sun | Sep 9 | 2001 | California Admission Day | Local observance | California |
| Mon | Sep 9 | 2002 | California Admission Day | Local observance | California |
| Tue | Sep 9 | 2003 | California Admission Day | Local observance | California |
| Thu | Sep 9 | 2004 | California Admission Day | Local observance | California |
| Fri | Sep 9 | 2005 | California Admission Day | Local observance | California |
| Sat | Sep 9 | 2006 | California Admission Day | Local observance | California |
| Sun | Sep 9 | 2007 | California Admission Day | Local observance | California |
| Tue | Sep 9 | 2008 | California Admission Day | Local observance | California |
| Wed | Sep 9 | 2009 | California Admission Day | Local observance | California |
| Thu | Sep 9 | 2010 | California Admission Day | Local observance | California |
| Fri | Sep 9 | 2011 | California Admission Day | Local observance | California |
| Sun | Sep 9 | 2012 | California Admission Day | Local observance | California |
| Mon | Sep 9 | 2013 | California Admission Day | Local observance | California |
| Tue | Sep 9 | 2014 | California Admission Day | Local observance | California |
| Wed | Sep 9 | 2015 | California Admission Day | Local observance | California |
| Fri | Sep 9 | 2016 | California Admission Day | Local observance | California |
| Sat | Sep 9 | 2017 | California Admission Day | Local observance | California |
| Sun | Sep 9 | 2018 | California Admission Day | Local observance | California |
| Mon | Sep 9 | 2019 | California Admission Day | Local observance | California |
| Wed | Sep 9 | 2020 | California Admission Day | Local observance | California |
Other holidays in September 2014 in United States
Other calendars
Related links