Emancipation Day in United States
Quick Facts
Emancipation Day is a state-wide observation in Ohio on September 22.
Local names
| Name | Language |
| --- | --- |
| Emancipation Day | English |
| Día de la Emancipación | Spanish |
| يوم التحرر | Hebrew |
| יום האמנציפציה | Arabic |
| 해방의 날 | Korean |
| Tag der Sklavenbefreiung (Emancipation Day) | German |
Emancipation Day 2014
Monday, September 22, 2014
Emancipation Day 2015
Tuesday, September 22, 2015
List of dates for other years
Residents of Ohio commemorate the abolishment of slavery on Emancipation Day, which falls on September 22. Some other states have similar celebrations, but they fall on different dates.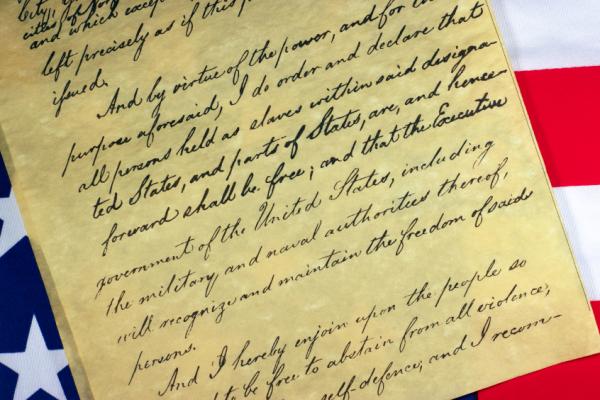 ©iStockphoto.com/lauradyoung
What do people do?
Emancipation Day has been observed annually since 1863 in Gallia County in south-eastern Ohio, so this celebration is most widely known and usually attracts more than 2000 visitors from Ohio and the rest of the United States. Today's celebration includes concerts, historic re-enactments, food and a wide range of other activities.
Public life
Emancipation Day is not a public holiday in Ohio, but it is a state-wide observation. Offices, banks, businesses and schools are normally open, although this may vary in some cases.
Background
On September 22, 1862, Abraham Lincoln issued a preliminary proclamation, which required all states to abandon slavery within 100 days. It declared all slaves "thenceforth and forever more free". The Emancipation Proclamation went into effect on January 1, 1863.
The abolishment of slavery in the United States is celebrated on different dates in other parts of the country. For example, Texas commomorates the liberation of the last remaining slaves on Juneteenth, while residents of Washington DC celebrate Emancipation Day on April 16 each year, remembering the signing of the Compensated Emancipation Act on April 16, 1862.
Emancipation Day Observances
| Weekday | Date | Year | Name | Holiday type | Where it is observed |
| --- | --- | --- | --- | --- | --- |
| Sat | Sep 22 | 1990 | Emancipation Day | Local observance | Ohio |
| Sun | Sep 22 | 1991 | Emancipation Day | Local observance | Ohio |
| Tue | Sep 22 | 1992 | Emancipation Day | Local observance | Ohio |
| Wed | Sep 22 | 1993 | Emancipation Day | Local observance | Ohio |
| Thu | Sep 22 | 1994 | Emancipation Day | Local observance | Ohio |
| Fri | Sep 22 | 1995 | Emancipation Day | Local observance | Ohio |
| Sun | Sep 22 | 1996 | Emancipation Day | Local observance | Ohio |
| Mon | Sep 22 | 1997 | Emancipation Day | Local observance | Ohio |
| Tue | Sep 22 | 1998 | Emancipation Day | Local observance | Ohio |
| Wed | Sep 22 | 1999 | Emancipation Day | Local observance | Ohio |
| Fri | Sep 22 | 2000 | Emancipation Day | Local observance | Ohio |
| Sat | Sep 22 | 2001 | Emancipation Day | Local observance | Ohio |
| Sun | Sep 22 | 2002 | Emancipation Day | Local observance | Ohio |
| Mon | Sep 22 | 2003 | Emancipation Day | Local observance | Ohio |
| Wed | Sep 22 | 2004 | Emancipation Day | Local observance | Ohio |
| Thu | Sep 22 | 2005 | Emancipation Day | Local observance | Ohio |
| Fri | Sep 22 | 2006 | Emancipation Day | Local observance | Ohio |
| Sat | Sep 22 | 2007 | Emancipation Day | Local observance | Ohio |
| Mon | Sep 22 | 2008 | Emancipation Day | Local observance | Ohio |
| Tue | Sep 22 | 2009 | Emancipation Day | Local observance | Ohio |
| Wed | Sep 22 | 2010 | Emancipation Day | Local observance | Ohio |
| Thu | Sep 22 | 2011 | Emancipation Day | Local observance | Ohio |
| Sat | Sep 22 | 2012 | Emancipation Day | Local observance | Ohio |
| Sun | Sep 22 | 2013 | Emancipation Day | Local observance | Ohio |
| Mon | Sep 22 | 2014 | Emancipation Day | Local observance | Ohio |
| Tue | Sep 22 | 2015 | Emancipation Day | Local observance | Ohio |
| Thu | Sep 22 | 2016 | Emancipation Day | Local observance | Ohio |
| Fri | Sep 22 | 2017 | Emancipation Day | Local observance | Ohio |
| Sat | Sep 22 | 2018 | Emancipation Day | Local observance | Ohio |
| Sun | Sep 22 | 2019 | Emancipation Day | Local observance | Ohio |
| Tue | Sep 22 | 2020 | Emancipation Day | Local observance | Ohio |
Other holidays in September 2014 in United States
Other calendars
Related links