Pioneer Day in United States
Quick Facts
Pioneer Day is an annual state holiday in Utah in the United States. It is celebrated to honor the pioneers who demonstrated industry and bravery when they ventured to settle in a place that is now Salt Lake City.
Local names
| Name | Language |
| --- | --- |
| Pioneer Day | English |
| Día de Los Pioneros | Spanish |
| יום פיוניר | Hebrew |
| يوم بايونير | Arabic |
| 개척자의 날 | Korean |
| Tag der Pioniere | German |
Pioneer Day 2014
Thursday, July 24, 2014
Pioneer Day 2015
Friday, July 24, 2015
List of dates for other years
Pioneer Day is a state holiday in Utah in the United States. It is celebrated on July 24 each year to commemorate the entry of Brigham Young and the first group of Mormon pioneers into Utah's Salt Lake Valley in 1847. This day celebrates the bravery of the original settlers and their strength of character and physical endurance.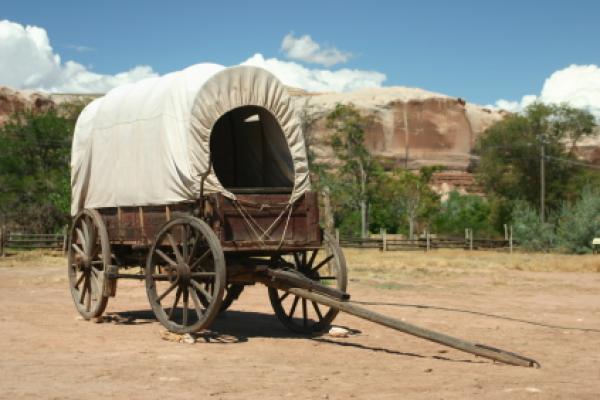 ©iStockphoto.com/Patricia Hofmeester
What do people do?
Pioneer Day activities include fireworks, parades, picnics, rodeos and other festivities throughout the state. Some people say that this day is celebrated in Utah with more zeal and pride than major holidays such as Christmas. Children take part in essay contests and projects about pioneers, while families enjoy the day with concerts and festivals. For the parades, some people may wear costumes that resemble clothes worn during the 19th century when Salt Lake Valley was founded.
Pioneer Day is also celebrated in many parts of Idaho, where it is commonly known as Celebration Day. Family reunions are popular on or around July 24.
Public life
Pioneer Day is a state holiday in Utah so county offices (except emergency services), educational institutions, and many businesses are closed. In some areas, some public transport services, such as buses, do not run on public holidays. People are advised to check public transit schedules first before they decide to travel via public transport during a public holiday.
Background
This day commemorates the entry of Brigham Young and the first group of Mormon pioneers into Utah's Salt Lake Valley on July 24, 1847. The Mormon pioneers viewed their arrival as the founding of a Mormon homeland, hence Pioneer Day. The Mormons, as they were commonly known, left their settlement in Nauvoo, Illinois, and journeyed west seeking refuge from religious persecution. The final impetus for their trek was the murder of founder and prophet Joseph Smith on June 27, 1844.
Determined to settle in an isolated region, the pioneers made their way across the plains and over the Rocky Mountains to Utah. They lost many of their party to disease during the winter months. By the time that they reached Utah, the desolate valley was a welcome sight. Potatoes and turnips were soon planted, and a dam was built. With solemn ceremonies, the settlers consecrated the two-square-mile city, and sent back word that the "promised land" was found. By the end of 1847, nearly 2000 Mormons settled in the Salt Lake Valley. The first Pioneer Day was celebrated in 1849 with a parade, band music and speeches. In modern times July 24 is celebrated annually as Pioneer Day, a state holiday, in Utah.
Symbols
The beehive became the official state emblem on March 4, 1959. Utah's residents relate the beehive symbol to industry and the pioneer virtues of thrift and perseverance. The beehive was chosen as the emblem for the provisional state of Deseret in 1848 and was maintained on the seal of the state of Utah when Utah became a state in 1896.
"Industry" officially became the state motto on March 4, 1959. It is associated with the symbol of the beehive. The early pioneers had few material resources at their disposal and had to rely on their own "industry" to survive. The word "industry" appears on both the state seal and the state flag.
Pioneer Day Observances
| Weekday | Date | Year | Name | Holiday type | Where it is observed |
| --- | --- | --- | --- | --- | --- |
| Tue | Jul 24 | 1990 | Pioneer Day | State holiday | Utah |
| Wed | Jul 24 | 1991 | Pioneer Day | State holiday | Utah |
| Fri | Jul 24 | 1992 | Pioneer Day | State holiday | Utah |
| Fri | Jul 23 | 1993 | Pioneer Day observed | State holiday | Utah |
| Sat | Jul 24 | 1993 | Pioneer Day | State holiday | Utah |
| Sun | Jul 24 | 1994 | Pioneer Day | State holiday | Utah |
| Mon | Jul 25 | 1994 | Pioneer Day observed | State holiday | Utah |
| Mon | Jul 24 | 1995 | Pioneer Day | State holiday | Utah |
| Wed | Jul 24 | 1996 | Pioneer Day | State holiday | Utah |
| Thu | Jul 24 | 1997 | Pioneer Day | State holiday | Utah |
| Fri | Jul 24 | 1998 | Pioneer Day | State holiday | Utah |
| Fri | Jul 23 | 1999 | Pioneer Day observed | State holiday | Utah |
| Sat | Jul 24 | 1999 | Pioneer Day | State holiday | Utah |
| Mon | Jul 24 | 2000 | Pioneer Day | State holiday | Utah |
| Tue | Jul 24 | 2001 | Pioneer Day | State holiday | Utah |
| Wed | Jul 24 | 2002 | Pioneer Day | State holiday | Utah |
| Thu | Jul 24 | 2003 | Pioneer Day | State holiday | Utah |
| Fri | Jul 23 | 2004 | Pioneer Day observed | State holiday | Utah |
| Sat | Jul 24 | 2004 | Pioneer Day | State holiday | Utah |
| Sun | Jul 24 | 2005 | Pioneer Day | State holiday | Utah |
| Mon | Jul 25 | 2005 | Pioneer Day observed | State holiday | Utah |
| Mon | Jul 24 | 2006 | Pioneer Day | State holiday | Utah |
| Tue | Jul 24 | 2007 | Pioneer Day | State holiday | Utah |
| Thu | Jul 24 | 2008 | Pioneer Day | State holiday | Utah |
| Fri | Jul 24 | 2009 | Pioneer Day | State holiday | Utah |
| Fri | Jul 23 | 2010 | Pioneer Day observed | State holiday | Utah |
| Sat | Jul 24 | 2010 | Pioneer Day | State holiday | Utah |
| Sun | Jul 24 | 2011 | Pioneer Day | State holiday | Utah |
| Mon | Jul 25 | 2011 | Pioneer Day observed | State holiday | Utah |
| Tue | Jul 24 | 2012 | Pioneer Day | State holiday | Utah |
| Wed | Jul 24 | 2013 | Pioneer Day | State holiday | Utah |
| Thu | Jul 24 | 2014 | Pioneer Day | State holiday | Utah |
| Fri | Jul 24 | 2015 | Pioneer Day | State holiday | Utah |
| Sun | Jul 24 | 2016 | Pioneer Day | State holiday | Utah |
| Mon | Jul 25 | 2016 | Pioneer Day observed | State holiday | Utah |
| Mon | Jul 24 | 2017 | Pioneer Day | State holiday | Utah |
| Tue | Jul 24 | 2018 | Pioneer Day | State holiday | Utah |
| Wed | Jul 24 | 2019 | Pioneer Day | State holiday | Utah |
| Fri | Jul 24 | 2020 | Pioneer Day | State holiday | Utah |
Other holidays in July 2014 in United States
Other calendars
Related links