Clocks go back 1 hour in Europe Sunday, Oct 26, 2014
Sunday, October 26, 2014 at 1:00 (1 am) UTC clocks will be set back one hour when Daylight Savings Time (DST) ends in most of Europe and southern Mexico.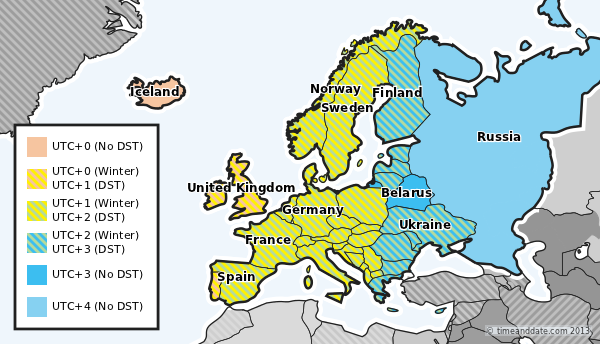 Local time for DST end in Europe
More light in the morning
Sunrise and sunset will be about one hour earlier on Sunday, 26 Oct, 2014 than the day before, so there will be more light in the morning.
USA & Canada end DST Sunday, Nov 2, 2014
Clocks forward again in March
DST starts again in Europe on
Sunday, 29 March 2015 at 1:00 (1 am) when clocks are turned forward 1 hour to 2:00 (2 am).
Where and when do clocks change next?
Same time all over Europe
All participating countries in Europe synchronize their DST, which starts on the last Sunday of March and ends on the last Sunday of October, including:
Clocks back in Russia too
Clocks across Russia will also be moved back one hour on Sunday, October 26. In 2014 a new law was introduced by Russian president Vladimir Putin abolishing Russia's permanent "summer time", which was introduced in 2011.
European countries with no DST
Clocks back or forward?
The clock moves ahead (= skips one hour) in the spring when DST starts, and falls back one hour (= adds one hour) when DST ends in the fall (autumn). To make it easier to remember which way the clock goes, keep in mind one of these sayings:spring forward – fall back or spring ahead, fall behind.
Article title
Local times for the Europe DST switch
Daylight Saving Time ends at the same time, at 1:00 (1 am) UTC. However, as the European continent spans 5 time zones, local times vary:
Time Zone during DST
Local time of DST end
Time Zone after DST - Standard time

British Summer Time (BST) used in UK and Ireland during summer

UTC offset: None

DST ends at 2:00 (2 am) local time.
Clocks go back one 1 hour to 1:00 (1 am).

UTC offset: +1 hr

Western European Summer Time (WEST) observed in Portugal, Faroe Islands and the Canary Islands.

UTC offset: None

DST ends at 2:00 (2 am) local time. Clocks go back one 1 hour to 1:00 (1 am).

UTC offset: +1 hr

Central European Summer Time (CEST), used in countries including France, Germany, Austria, Italy, Switzerland, Norway, Poland, Hungary, and Spain.

UTC offset: +1 hr

DST ends at 3:00 (3 am) local time, when clocks move back 1 hour to 2:00 (2 am).

UTC offset: +2 hrs

Eastern European Summer Time (EEST), observed in countries including Bulgaria, Estonia, Finland, Greece, Latvia, Romania, Turkey, and Ukraine.

UTC offset: +2 hrs

DST ends at 4:00 (4 am) local time, when clocks move back 1 hour to 3:00 (3 am).

UTC offset: +3 hrs

Most of the western parts of Russia are in the Moscow time zone, Moscow Standard Time (MSK).

UTC offset: UTC +4 hrs

Russia re-introduces DST in 2014.

DST ends at 2:00 (2 am) local time when clocks move back 1 hour to 1:00 (1 am).

UTC offset: UTC +3 hrs
More details about Europe's time zones and DST schedule | A brief history of DST in Europe
In this Article
---
---
---

Create Calendar with Holidays
---