Background on Australia's Time Zones
timeanddate.com gives a brief background on Australia's time zones.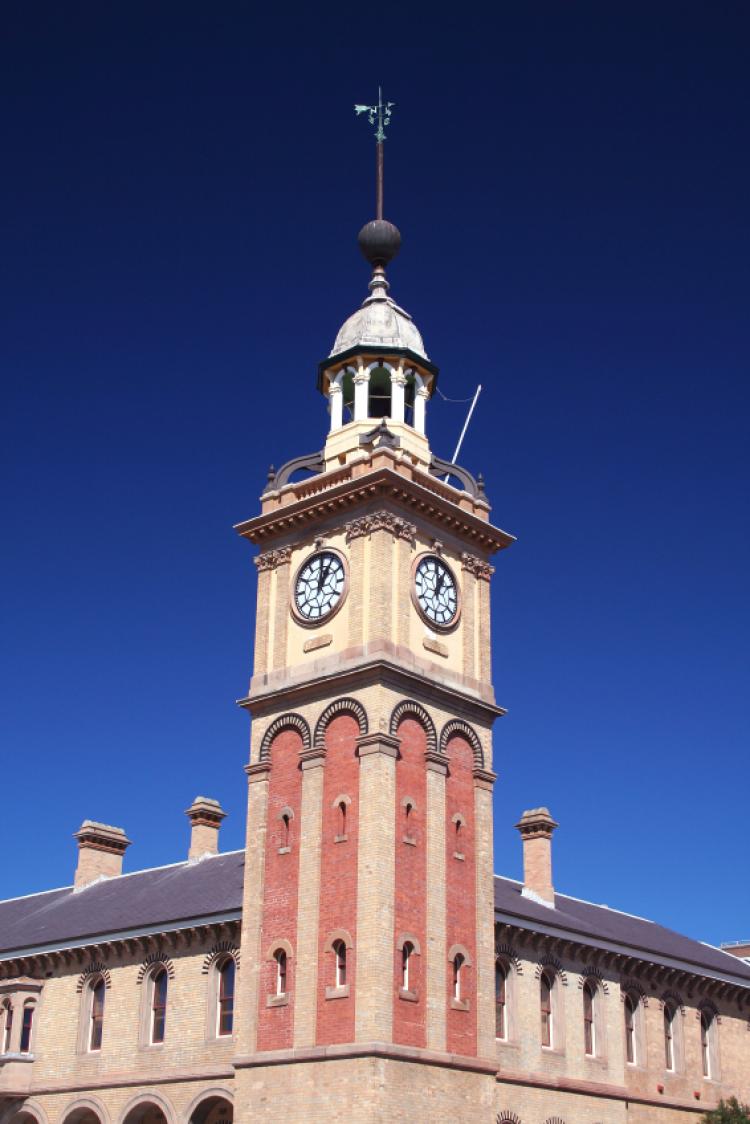 Australia's Main Time Zones
There are three time zones in Australia's mainland:
Australian Eastern Standard Time (AEST), which is 10 hours ahead of Coordinated Universal Time (UTC+10). AEST applies to: New South Wales except Yancowinna County, which includes the city of Broken Hill; Victoria; Queensland; Tasmania; and the Australian Capital Territory. During daylight saving time, AEST becomes Australian Eastern Daylight Time (AEDT) and clocks are advanced to UTC+11. Not all states (eg. Queensland) in eastern Australia observe daylight saving time.
Australian Central Standard Time (ACST), which is UTC+9:30, and applies to: South Australia; the Northern Territory; and Yancowinna County, which includes the city of Broken Hill, in New South Wales. During daylight saving time, ACST becomes Australian Central Daylight Time (ACDT), and clocks are advanced to UTC +10:30. The Northern Territory does not observe daylight saving time.
Australian Western Standard Time (AWST), which is UTC+8, and applies to Western Australia.
These time zones were set up by colonial legislatures in the mid to late 1890s.
Australia's Daylight Saving Time
The following states and territory observe DST in Australia:
Australian Capital Territory.
New South Wales.
South Australia.
Tasmania.
Victoria.
DST is synchronized across these states and territory. The DST schedule in these parts of Australia begins at 2am (02:00) on first Sunday of October, when the clocks move forward by one hour to 3am (03:00) local time. DST ends at 3am (03:00) when the clocks move back to 2am (02:00) local time on the first Sunday of April. Western Australia, Queensland and the Northern Territory do not observe DST.
Daylight Saving Time (DST) has been implemented within Australia in various forms since the early 1900s. DST in Australia has a long history mainly because the responsibility for setting time zones and DST lies with state and territory authorities. Commonwealth power on weights and measures in the Australian constitution extends to the measurement of time but whether it has power to legislate about time is not free from doubt, according to Australia's Parliamentary Library.
There are some states, such as Queensland and Western Australia, where DST was observed in the past. However, DST is no longer applied in these states due to reasons such as unpopularity or lack of votes in referenda. One example was the Western Australian DST referendum in 2009.
Other Time Zones
Australia has other time zones that are associated with the external territories under its control. The Cocos (Keeling) Islands are on UTC+6:30 while Christmas Island is on UTC+7. Norfolk Island is on UTC+11:30. Norfolk Island is a self-governing territory of Australia and is situated in the South Pacific Ocean, about 1610 kilometers (about 1000 miles) north-east of Sydney.
Lord Howe Island is on UTC+10:30 when it is not on daylight saving time (DST). The island is part of New South Wales and is located about 600km (about 373 miles) northeast of Sydney. Heard Island, McDonald Islands, the Coral Sea Islands, and Ashmore and Cartier Islands are usually uninhabited and do not have special times set for them.
Australia's four Antarctic bases have their times determined more for convenience of contact with the Australian Antarctic Division of the Department of Environment and Heritage in Hobart than their geographic location. Casey station reverted to UTC+8 on March 5, 2010, while Davis station planned to move to UTC+7 on March 10, 2010. Mawson station is on UTC+5. Macquarie Island station remains on Australian Eastern Daylight Time (AEDT), which is equivalent to UTC+11.
There is also a local unofficial time variation for people living in Western Australia's south-east corner, along the Eyre Highway between South Australia and Western Australia. They observe what is unofficially known as Central Western Time. Central Western Standard Time is UTC+8:45, halfway between AWST and ACST. Towns in this zone include (but are not exclusive to) Eucla and Caiguna.
Note: timeanddate.com would like to acknowledge Australia's Parliamentary Library as one of the major sources of information on this page.
In this Article

Time Zone Library
Australia's Time Zones
---