Half Hour Time Zones
Some countries follow half hour and other nonstandard time zones.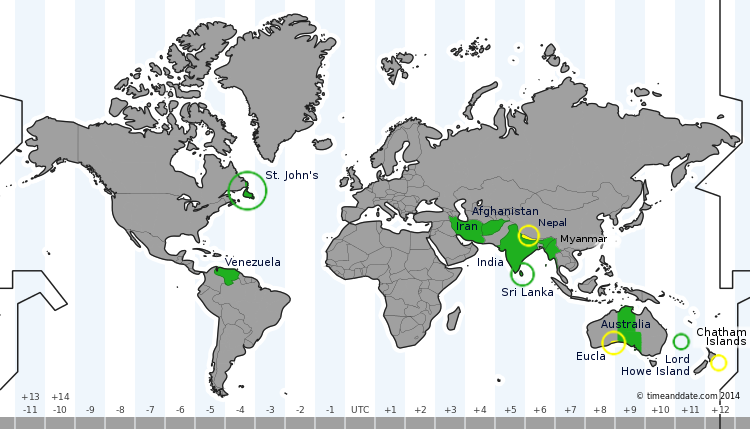 Many countries in the world use GMT/ UTC to define their time zone. While most of these countries' time zones have an integral difference from GMT/ UTC (UTC+n or UTC-n, where n is an integer), some countries follow nonstandard time zones.
India
Despite its large size, India follows a single time zone, called the Indian Standard Time (IST). IST maintains a 30 minute offset from UTC. This means that when it is 12:00 UTC, it is 5:30 AM anywhere in India. This can be particularly confusing to travelers who are accustomed to integer time zone changes.
There is a reason for this additional half hour offset. If one were to measure time at the eastern and western extremes of India using a sun dial, one would find that they are actually approximately 1:30 hours apart from each other. So when it is 12:00 UTC, it would be about 4:50 PM in Mumbai, according to the sun dial and 5:30 PM in Kolkata, as measured by the sun dial.
According to some sources, the reason behind maintaining a uniform time zone across India dates back to the railway system during the colonial times. For a very long time, big cities in British India each followed their own time zones. To avoid confusion, railway companies decided to follow one time zone, called the Madras time zone. The government on the other hand, followed both Bombay time and Calcutta time.
After the country's independence, the Indian government decided to standardize the time zone for political and economic reasons. Politically, an uniform time zone tried to unify a diverse country. Economically, a single time zone ensured that transport and flow of goods and services were not inconvenienced. However, it took a few years before the entire country was brought under the same time zone. Calcutta time was followed until about 1948, while Bombay time was maintained informally till 1955.
There have been several proposals introduced in the Indian Parliament to re-introduce multiple time zones in the country.
In addition to following a single time zone, India also does not follow Daylight Saving Time.
Sri Lanka
In April 2006, Sri Lanka decided to start following Indian Standard Time. Before this, Sri Lanka had maintained a 6 hours offset from UTC (UTC+6) for a decade.
Afghanistan
Afghanistan follows Afghanistan Time (AFT), which is four and a half hours ahead of UTC (UTC+4:30) all year.
Iran
Iran also maintains a 30 minute offset from UTC. It follows Iran Standard Time (IRST) in the winter and Iran Daylight Time (IRDT) in the summer when Iran follows daylight saving. IRST is three and a half hour ahead of UTC, (UTC+3:30) and IRDT is 4 and a half hours (UTC+4:30) ahead of UTC.
Myanmar
Myanmar is also on the list of countries that maintain a 30 minute offset from UTC/ GMT. Cities in this Southeast Asian country are six and a half hour ahead of UTC (UTC+6:30).
Newfoundland
Newfoundland, Canada is the only North American region that follows an half hour offset from UTC. Newfoundland Standard Time (NST) is three and a half hours behind UTC (UTC-3:30) and two and a half hour behind UTC (UTC-2:30) during daylight saving. It is 30 minutes ahead of Atlantic Standard Time (AST).
While technically the whole province of Newfoundland follows NST, only the island of Newfoundland and a few other regions of Labrador follow the 30 minute offset. Other regions of the province follow AST.
Newfoundland does not follow the rest of Canada in keeping time because of two main reasons. First, while Newfoundland is located in the UTC-4 timezone, it is exactly three and a half hours from UTC as measured by a sun dial. Second, the legislation that decided the time offset for the province was passed in 1935, 14 years before Newfoundland joined Canada in 1949.
Regions of Australia
Parts of Australia follow non standard time zones. South Australia, the Northern Territory, and the town of Broken Hill in western New South Wales follow Australian Central Standard Time (ACST), which is UTC+9:30. During summer, due to daylight saving time (DST), South Australia and Broken Hill are ten and a half hours ahead of UTC (UTC+10:30). The Northern Territory does not use DST.
Lord Howe Island maintain an integer offset, UTC+11 hours, in the summer but in the winter turns the clock back only half an hour as DST ends. So in the winter time, Lord Howe Island is ten and a half hours ahead of UTC (UTC+10:30). Eucla and a few nearby towns in the eastern part of Western Australia, are on UTC+8:45. This offset is unofficial but observed in this area.
Norfolk Island, which is about 1610 kilometers (about 1000 miles) north-east of Sydney, is on UTC+11:30. The Cocos (Keeling) Islands are on UTC+6:30.
More about Australia's Time Zones
Venezuela
In 2007, then Venezuelan President, Hugo Chavez, decided to turn the clocks back by half an hour on a permanent basis. Now, Venezuela is UTC-4:30.
Nepal
Nepal is one of two locations in the world that is 45 minutes ahead of or 15 minutes behind a standard time zone. When it is midnight in Greenwich, it is 5:45 AM in Kathmandu and the rest of Nepal. Nepal is 15 minutes ahead of India.
Chatham Islands
Chatham Islands, a territory of New Zealand, is the only other location in the world that follows a 45 minute offset from the UTC. Chatham Islands follow the Chatham Standard Time Zone, which is UTC+12:45 during the winter, and UTC+13:45 during the summer time due to daylight saving.
Marquesas Islands
The Marquesas Islands in French Polynesia are on Marquesas Time (MART), which is 9:30 hours behind Coordinated Universal Time (UTC).
In this Article

Time Zone Library
Half Hour Time Zones
---

Find the best time for a web meeting across time zones More
---