Brazil ends DST on Sunday, February 22, 2015
Clocks in southern Brazilian states will be turned back by 1 hour at midnight between Saturday, February 21 and Sunday, February 22, 2015 as the Daylight Saving Time (DST) period ends in the South American country.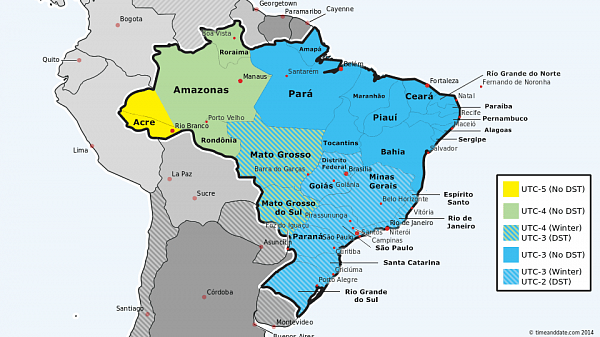 Brazil's DST switch in more detail
Upcoming DST changes worldwide
DST Will Not Be Extended
Recently, the Brazilian government considered elongating the Daylight Saving Time period by one month. However, the plans have now been discarded, so DST will end as planned.
States Affected by the Switch
Time in Brazil
Brazil has four time zones, stretching from UTC-2 to UTC-5 (standard time):