Most of Brazil starts DST on October 20
Clocks in 11 Brazilian states will be advanced by 1 hour at midnight between Saturday, October 19 and Sunday, October 20, 2013, to begin this season's daylight saving time (DST) period. The state of Tocantins will probably not take part in the DST switch. The DST or "Summer Time" period is expected to end again on Sunday, February 16, 2014.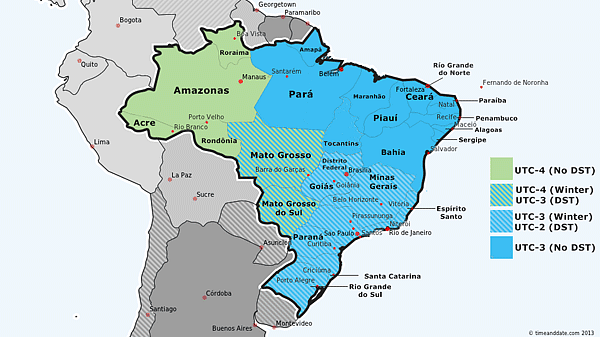 Upcoming DST changes worldwide
Brazilian states with DST in 2013/14
Tocantins abolishes DST again
According to news reports citing Brazilian congressman, César Halum, the state of Tocantins will not observe DST this season. Tocantins reintroduced DST in 2012, but the decision was met by scepticism from a large part of the state's population. In a poll initiated by the state's administration, 76.7% of the participants expressed their opposition to the use of DST. Tocantins was the northernmost state advancing its clocks during the 2012—2013 DST period. Critics argue that the amount of energy saved by implementing DST is diminished in areas close to the Equator, and that the disadvantages of seasonal time change outweigh its benefits.
Update October 2, 2013: The Brazilian federal government recently confirmed that Tocantins will not observe DST during the 2013—2014 season.
Bahia confirms abandonment of DST
The state of Bahia will also not take part in DST this season. The state, which lies on roughly the same latitude as Tocantins, had reintroduced seasonal time change in 2011, only to abolish it again one year later because the initiative was met by fierce opposition from many people in the state.
Time in Brazil
Brazil has three time zones due to its large geographic size:
The first time zone, UTC-2 hours (standard time), includes areas such as the archipelago of Fernando de Noronha.
The second time zone, UTC-3 hours (standard time), comprises the states in the South, the Southeast, and the Northeast Region (except some islands). These include the states of Goiás, Tocantins, Pará, and Amapá, plus the Brazilian Federal District.
The third time zone, UTC-4 hours (standard time), includes the states of Mato Grosso, Mato Grosso do Sul, Amazonas, Rondonia, Roraima and Acre.
There have been news reports recently that the state of Acre may switch back to its original time zone of UTC-5 hours. This had also been an issue in past years. No decision has been reached yet.