Canberra Day in Australia
Quick Facts
Canberra Day is a public holiday that celebrates Canberra's official founding in the Australian Capital Territory.
Local names
| Name | Language |
| --- | --- |
| Canberra Day | English |
| Canberra Day | German |
Canberra Day 2014
Monday, March 10, 2014
Canberra Day 2015
Monday, March 9, 2015
List of dates for other years
Canberra Day is a public holiday in the Australian Capital Territory (ACT) on the second Monday of March each year. It commemorates Canberra's official founding in 1913 and highlights a major festival in the territory.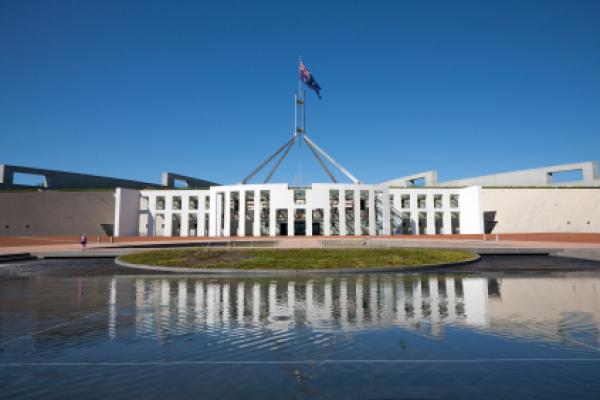 ©iStockphoto.com/Linda & Colin McKie
What do people do?
Canberra Day is one of the major highlights of the Celebrate Canberra festival where people in Australia's capital city celebrate its qualities such as its physical beauty and cultural diversity. Various forms of entertainment that comprise the festival include:
Exhibitions and displays.
Sporting events.
Music.
Film.
Dance.
Theatre.
Celebrate in the Park – Canberra's biggest birthday party.
The Canberra Citizen of the Year is named around this time. Those who received this honor in previous years were recognized for their work in areas such as:
Improving Indigenous affairs.
Volunteer work for the terminally ill.
Assisting refugees to settle in the community.
Advocating on behalf of the elderly and/or aged care.
Contributing to various charities or community organizations.
The Canberra Day holiday falls on a Monday so some people may organize long-weekend getaway trips. Retreats may include campout trips, shopping trips to other cities such as Sydney, or a driving trip to the countryside.
Public life
Canberra Day is a public holiday in the ACT so territory government offices, educational institutions and many businesses are closed on the day. People who intend on travelling via public transport on the day will need to check with their local transport authorities as transport schedules and ticket prices may vary. For example, Canberra's bus service, ACTION, offers off-peak tickets on public holidays.
Background
According to the Australian Government's Culture and Recreation Portal, the Canberra region has been home to a group of Indigenous Australians, known as the Ngunnawal people, for about 21,000 years. Many Aboriginal people continued to live in the area after the Europeans settled in there in the 1820s, often working on sheep properties, but their numbers reduced over the years.
The European settlement expanded and the area known today as Canberra became center of attention when it was chosen as Australia's new capital city as a result of an international competition, which received more than 130 entries, in 1911. American architect Walter Burley Griffin and his wife Marion Mahony Griffin won the competition to design a new capital city. Their plans for Canberra included green bands surrounding settlement areas, wide boulevards lined with large buildings, formal parks and water features.
The ACT was declared on January 1, 1911, and became a self-governing territory in 1989. Canberra is the heart of the ACT and is the hub of Australia's federal politics. Canberra Day was celebrated on the third Monday of March, according to the ACT's Holidays Act 1958, until 2008, when it was officially changed to the second Monday of March. The change brought the public holiday closer to day city was officially founded, which was March 12 in 1913.
Symbols
Canberra is the seat of federal government and is home to important cultural landmarks such as:
The Australian War Memorial.
The National Gallery of Australia.
The High Court.
Parliament House.
Old Parliament House.
The Aboriginal Tent Embassy.
The National Library of Australia.
Images of these landmarks, particularly Parliament House, are seen in many promotions for the city, as well as books, postcards and other publications about Australia.
Note: Timeanddate.com wishes to thank the Australian Government's Culture and Recreation Portal for most of the background information on Canberra Day in the ACT.
Canberra Day Observances
| Weekday | Date | Year | Name | Holiday type | Where it is observed |
| --- | --- | --- | --- | --- | --- |
| Mon | Mar 19 | 1990 | Canberra Day | State Holiday | Australian Capital Territory |
| Mon | Mar 18 | 1991 | Canberra Day | State Holiday | Australian Capital Territory |
| Mon | Mar 16 | 1992 | Canberra Day | State Holiday | Australian Capital Territory |
| Mon | Mar 15 | 1993 | Canberra Day | State Holiday | Australian Capital Territory |
| Mon | Mar 21 | 1994 | Canberra Day | State Holiday | Australian Capital Territory |
| Mon | Mar 20 | 1995 | Canberra Day | State Holiday | Australian Capital Territory |
| Mon | Mar 18 | 1996 | Canberra Day | State Holiday | Australian Capital Territory |
| Mon | Mar 17 | 1997 | Canberra Day | State Holiday | Australian Capital Territory |
| Mon | Mar 16 | 1998 | Canberra Day | State Holiday | Australian Capital Territory |
| Mon | Mar 15 | 1999 | Canberra Day | State Holiday | Australian Capital Territory |
| Mon | Mar 20 | 2000 | Canberra Day | State Holiday | Australian Capital Territory |
| Mon | Mar 19 | 2001 | Canberra Day | State Holiday | Australian Capital Territory |
| Mon | Mar 18 | 2002 | Canberra Day | State Holiday | Australian Capital Territory |
| Mon | Mar 17 | 2003 | Canberra Day | State Holiday | Australian Capital Territory |
| Mon | Mar 15 | 2004 | Canberra Day | State Holiday | Australian Capital Territory |
| Mon | Mar 21 | 2005 | Canberra Day | State Holiday | Australian Capital Territory |
| Mon | Mar 20 | 2006 | Canberra Day | State Holiday | Australian Capital Territory |
| Mon | Mar 19 | 2007 | Canberra Day | State Holiday | Australian Capital Territory |
| Mon | Mar 10 | 2008 | Canberra Day | State Holiday | Australian Capital Territory |
| Mon | Mar 9 | 2009 | Canberra Day | State Holiday | Australian Capital Territory |
| Mon | Mar 8 | 2010 | Canberra Day | State Holiday | Australian Capital Territory |
| Mon | Mar 14 | 2011 | Canberra Day | State Holiday | Australian Capital Territory |
| Mon | Mar 12 | 2012 | Canberra Day | State Holiday | Australian Capital Territory |
| Mon | Mar 11 | 2013 | Canberra Day | State Holiday | Australian Capital Territory |
| Mon | Mar 10 | 2014 | Canberra Day | State Holiday | Australian Capital Territory |
| Mon | Mar 9 | 2015 | Canberra Day | State Holiday | Australian Capital Territory |
| Mon | Mar 14 | 2016 | Canberra Day | State Holiday | Australian Capital Territory |
| Mon | Mar 13 | 2017 | Canberra Day | State Holiday | Australian Capital Territory |
| Mon | Mar 12 | 2018 | Canberra Day | State Holiday | Australian Capital Territory |
| Mon | Mar 11 | 2019 | Canberra Day | State Holiday | Australian Capital Territory |
| Mon | Mar 9 | 2020 | Canberra Day | State Holiday | Australian Capital Territory |
Other holidays in March 2014 in Australia
Other calendars
Related links