Palm Sunday in Australia
Quick Facts
Palm Sunday in Australia celebrates Jesus Christ's entry into Jerusalem. It is also the Sunday before Easter Sunday.
Local names
| Name | Language |
| --- | --- |
| Palm Sunday | English |
| Palmsonntag | German |
Palm Sunday 2014
Sunday, April 13, 2014
Palm Sunday 2015
Sunday, March 29, 2015
List of dates for other years
Many Christians living in Australia remember Jesus' triumphal entry into Jerusalem on Palm Sunday, which marks the beginning of Holy Week. This day is also on the Sunday before Easter Sunday.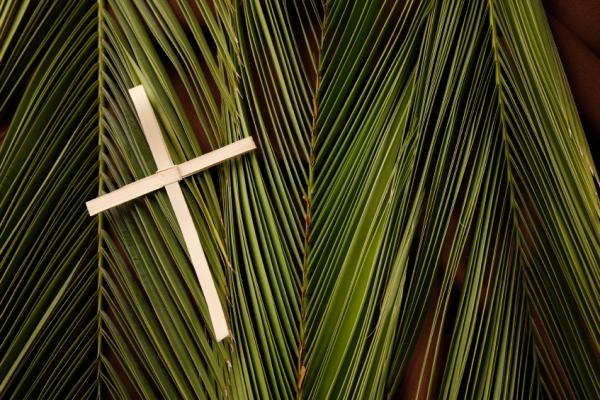 ©iStockphoto.com/duckycards
What do people do?
Many churches in Australia, particularly the Catholic churches, have Palm Sunday services (or mass) to celebrate Jesus' entry into Jerusalem. It is also a time for Christians to remember Jesus' suffering before his death and resurrection. Priests bless palms before distributing them to the congregation. They sometimes come in the shape of a cross and may be used to make Ash Wednesday ashes for the next year.
Catholic schools may have special lessons about the meaning, traditions and history of Palm Sunday as part of their religious teachings. The Greek Orthodox Archdiocese of Australia recognizes the Saturday of Lazarus from a liturgical viewpoint as the pre-feast of Palm Sunday. Both Palm Sunday and the Saturday of Lazarus have a common theme – triumph and victory.
Public life
Palm Sunday is not a federal holiday in Australia. However, it is held on a Sunday, which is a non-school day and non-working day for many Australians. Public transport services run to the usual Sunday schedules and many businesses, particularly in rural Australia, are often closed. However, some businesses, including retail shops, remain open in areas where there is Sunday trading, particularly in large cities.
Background and Symbols
Many churches in Australia observe Palm Sunday as part of Holy Week. Many churches, particularly the Greek Orthodox Church and the Roman Catholic Church, traditionally observed this day over the years. It is important to note that some parts of Australia have a large Greek community, particularly in Melbourne and Sydney. Many Greek Orthodox churches celebrate Palm Sunday at a later date than the date observed by many western churches. This is because many Greek Orthodox churches still use the Julian calendar, which predates the Gregorian calendar used in Australia.
Palm Sunday is a time to reflect on victory, joy and peace so many Australians have historically used the day as an opportunity to take part in peace parades or protests that allow them to voice their opinions on issues such as war, uranium, and nuclear disarmament.
About Palm Sunday in other countries
Read more about
Palm Sunday
.
Palm Sunday Observances
| Weekday | Date | Year | Name | Holiday type | Where it is observed |
| --- | --- | --- | --- | --- | --- |
| Sun | Apr 8 | 1990 | Palm Sunday | Christian | |
| Sun | Mar 24 | 1991 | Palm Sunday | Christian | |
| Sun | Apr 12 | 1992 | Palm Sunday | Christian | |
| Sun | Apr 4 | 1993 | Palm Sunday | Christian | |
| Sun | Mar 27 | 1994 | Palm Sunday | Christian | |
| Sun | Apr 9 | 1995 | Palm Sunday | Christian | |
| Sun | Mar 31 | 1996 | Palm Sunday | Christian | |
| Sun | Mar 23 | 1997 | Palm Sunday | Christian | |
| Sun | Apr 5 | 1998 | Palm Sunday | Christian | |
| Sun | Mar 28 | 1999 | Palm Sunday | Christian | |
| Sun | Apr 16 | 2000 | Palm Sunday | Christian | |
| Sun | Apr 8 | 2001 | Palm Sunday | Christian | |
| Sun | Mar 24 | 2002 | Palm Sunday | Christian | |
| Sun | Apr 13 | 2003 | Palm Sunday | Christian | |
| Sun | Apr 4 | 2004 | Palm Sunday | Christian | |
| Sun | Mar 20 | 2005 | Palm Sunday | Christian | |
| Sun | Apr 9 | 2006 | Palm Sunday | Christian | |
| Sun | Apr 1 | 2007 | Palm Sunday | Christian | |
| Sun | Mar 16 | 2008 | Palm Sunday | Christian | |
| Sun | Apr 5 | 2009 | Palm Sunday | Christian | |
| Sun | Mar 28 | 2010 | Palm Sunday | Christian | |
| Sun | Apr 17 | 2011 | Palm Sunday | Christian | |
| Sun | Apr 1 | 2012 | Palm Sunday | Christian | |
| Sun | Mar 24 | 2013 | Palm Sunday | Christian | |
| Sun | Apr 13 | 2014 | Palm Sunday | Christian | |
| Sun | Mar 29 | 2015 | Palm Sunday | Christian | |
| Sun | Mar 20 | 2016 | Palm Sunday | Christian | |
| Sun | Apr 9 | 2017 | Palm Sunday | Christian | |
| Sun | Mar 25 | 2018 | Palm Sunday | Christian | |
| Sun | Apr 14 | 2019 | Palm Sunday | Christian | |
| Sun | Apr 5 | 2020 | Palm Sunday | Christian | |
Related holidays
Other holidays in April 2014 in Australia
Other calendars
Related links