Christmas Eve in Mexico
Quick Facts
Most Mexicans celebrate Christmas Eve on December 24 by attending church masses, visiting family and friends, and enjoying special Christmas dinners.
Local names
| Name | Language |
| --- | --- |
| Christmas Eve | English |
| Nochebuena | Spanish |
| Heiligabend | German |
Christmas Eve 2014
Wednesday, December 24, 2014
Christmas Eve 2015
Thursday, December 24, 2015
List of dates for other years
Christmas Eve (Noche Buena) is a festive celebration throughout Mexico on December 24. It is the day before Christmas Day (Navidad), which marks the birth of Jesus.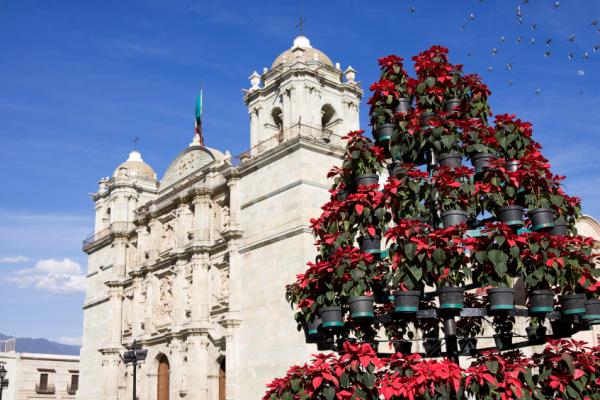 ©iStockphoto.com/abalcazar
Celebrate Christmas Eve
From December 16 until Christmas Eve, children across Mexico take part in the posada processions. The term posada refers to an inn or hospitality lodging, so during these processions children are dressed in costumes to re-enact the story of Jesus' parents Joseph and Mary looking for a place to stay before his birth. Parties are held after the processions, where children aim at hitting piñatas, which are paper-mâché decorations filled with candy.
Poinsettias, or Christmas Eve flowers (Noche Buena), are displayed in many homes. They come in different colors, including red, white, and yellow. Most Mexicans attend church masses (Misa de Gallo) and come home to family dinners. Typical meals include Christmas Eve salad (ensalada de Noche Buena), wrapped cornmeal dumplings (tamales), and dried salted codfish (bacalao).
Children in Mexico receive presents from baby Jesus, which is similar to receiving Christmas gifts from Santa Claus, on Christmas Eve.
Public life
Christmas Eve is not a federal public holiday in Mexico. However, shopping districts are particularly busy, as well as major roads and inner-city streets. People intending on travelling via public transport in Mexico should check with public transit authorities on any timetable or route changes.
About Christmas Eve
Many Christians in Mexico and worldwide celebrate Christmas Eve on December 24. Christmas Day, on December 25, celebrates the birth of Jesus, who Christians believe is the son of God. His actual birth date is unknown because there is little public information about his early life.
Did you know?
Children in Mexico also get presents from the three wise kings on Epiphany, also called the Day of the Holy Kings (Día de los Santos Reyes) on January 6.
About Christmas Eve in other countries
Read more about
Christmas Eve
.
Christmas Eve Observances
| Weekday | Date | Year | Name | Holiday type |
| --- | --- | --- | --- | --- |
| Mon | Dec 24 | 1990 | Christmas Eve | Observance, Christian |
| Tue | Dec 24 | 1991 | Christmas Eve | Observance, Christian |
| Thu | Dec 24 | 1992 | Christmas Eve | Observance, Christian |
| Fri | Dec 24 | 1993 | Christmas Eve | Observance, Christian |
| Sat | Dec 24 | 1994 | Christmas Eve | Observance, Christian |
| Sun | Dec 24 | 1995 | Christmas Eve | Observance, Christian |
| Tue | Dec 24 | 1996 | Christmas Eve | Observance, Christian |
| Wed | Dec 24 | 1997 | Christmas Eve | Observance, Christian |
| Thu | Dec 24 | 1998 | Christmas Eve | Observance, Christian |
| Fri | Dec 24 | 1999 | Christmas Eve | Observance, Christian |
| Sun | Dec 24 | 2000 | Christmas Eve | Observance, Christian |
| Mon | Dec 24 | 2001 | Christmas Eve | Observance, Christian |
| Tue | Dec 24 | 2002 | Christmas Eve | Observance, Christian |
| Wed | Dec 24 | 2003 | Christmas Eve | Observance, Christian |
| Fri | Dec 24 | 2004 | Christmas Eve | Observance, Christian |
| Sat | Dec 24 | 2005 | Christmas Eve | Observance, Christian |
| Sun | Dec 24 | 2006 | Christmas Eve | Observance, Christian |
| Mon | Dec 24 | 2007 | Christmas Eve | Observance, Christian |
| Wed | Dec 24 | 2008 | Christmas Eve | Observance, Christian |
| Thu | Dec 24 | 2009 | Christmas Eve | Observance, Christian |
| Fri | Dec 24 | 2010 | Christmas Eve | Observance, Christian |
| Sat | Dec 24 | 2011 | Christmas Eve | Observance, Christian |
| Mon | Dec 24 | 2012 | Christmas Eve | Observance, Christian |
| Tue | Dec 24 | 2013 | Christmas Eve | Observance, Christian |
| Wed | Dec 24 | 2014 | Christmas Eve | Observance, Christian |
| Thu | Dec 24 | 2015 | Christmas Eve | Observance, Christian |
| Sat | Dec 24 | 2016 | Christmas Eve | Observance, Christian |
| Sun | Dec 24 | 2017 | Christmas Eve | Observance, Christian |
| Mon | Dec 24 | 2018 | Christmas Eve | Observance, Christian |
| Tue | Dec 24 | 2019 | Christmas Eve | Observance, Christian |
| Thu | Dec 24 | 2020 | Christmas Eve | Observance, Christian |
Other holidays in December 2014 in Mexico
Other calendars
Related links