New Year's Eve in Mexico
Quick Facts
New Year's Eve, on December 31, is the last day of the year.
Local names
| Name | Language |
| --- | --- |
| New Year's Eve | English |
| Fiesta de Fin de Año | Spanish |
| Silvester | German |
New Year's Eve 2014
Wednesday, December 31, 2014
New Year's Eve 2015
Thursday, December 31, 2015
List of dates for other years
New Year's Eve (Fiesta de Fin de Año) is a festive occasion for millions of people in Mexico, as it is a time to say good bye to the year ending and to welcome the New Year.
Count down to the New Year with timeanddate.com no matter where you are in the world.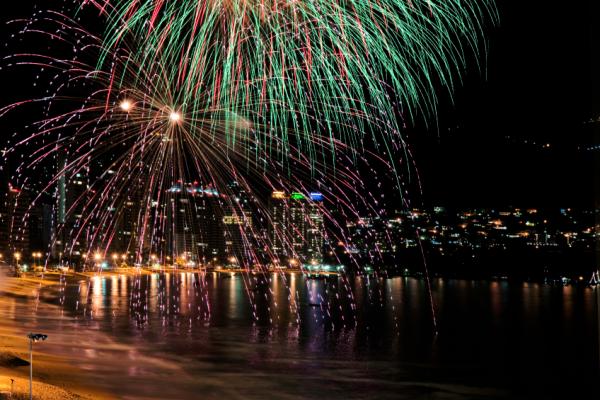 ©iStockphoto.com/ view portfolio
Celebrate New Year's Eve
Beaches like Acapulco and Cancun are packed with tourists from all over the world on New Year's Eve. Parties and dinners are held to celebrate the night in anticipation of the New Year. Fireworks are lit and champagne glasses are toasted at the stroke of midnight between New Year's Eve and New Year's Day. "Feliz Año Nuevo!" is often the first expression that is shared among friends and family on January 1 – it simply means "Happy New Year". Celebratory meals include: bacalao (dried, salted codfish); buñuelos (fried dough ball dessert); and ponche (fruit punch).
There are many superstitious activities that people do for fun. It is believed that dressing in certain colors will bring positivity: white for spiritual goodness; green for good health; red for love; and yellow for wealth. One midnight tradition is to throw a bucket of water out the window for renewal in the New Year. Another is to sweep out old dust and sweep in coins for prosperity at home.
Public life
New Year's Eve is an observance and not a public holiday in Mexico.
About New Year's Eve
New Year's Day, January 1, marks the start of the year in the Gregorian calendar, which is used in many countries. New Year's Eve is a holiday with many traditions that is celebrated worldwide.
About New Year's Eve in other countries
Read more about
New Year's Eve
.
New Year's Eve Observances
| Weekday | Date | Year | Name | Holiday type |
| --- | --- | --- | --- | --- |
| Mon | Dec 31 | 1990 | New Year's Eve | Observance |
| Tue | Dec 31 | 1991 | New Year's Eve | Observance |
| Thu | Dec 31 | 1992 | New Year's Eve | Observance |
| Fri | Dec 31 | 1993 | New Year's Eve | Observance |
| Sat | Dec 31 | 1994 | New Year's Eve | Observance |
| Sun | Dec 31 | 1995 | New Year's Eve | Observance |
| Tue | Dec 31 | 1996 | New Year's Eve | Observance |
| Wed | Dec 31 | 1997 | New Year's Eve | Observance |
| Thu | Dec 31 | 1998 | New Year's Eve | Observance |
| Fri | Dec 31 | 1999 | New Year's Eve | Observance |
| Sun | Dec 31 | 2000 | New Year's Eve | Observance |
| Mon | Dec 31 | 2001 | New Year's Eve | Observance |
| Tue | Dec 31 | 2002 | New Year's Eve | Observance |
| Wed | Dec 31 | 2003 | New Year's Eve | Observance |
| Fri | Dec 31 | 2004 | New Year's Eve | Observance |
| Sat | Dec 31 | 2005 | New Year's Eve | Observance |
| Sun | Dec 31 | 2006 | New Year's Eve | Observance |
| Mon | Dec 31 | 2007 | New Year's Eve | Observance |
| Wed | Dec 31 | 2008 | New Year's Eve | Observance |
| Thu | Dec 31 | 2009 | New Year's Eve | Observance |
| Fri | Dec 31 | 2010 | New Year's Eve | Observance |
| Sat | Dec 31 | 2011 | New Year's Eve | Observance |
| Mon | Dec 31 | 2012 | New Year's Eve | Observance |
| Tue | Dec 31 | 2013 | New Year's Eve | Observance |
| Wed | Dec 31 | 2014 | New Year's Eve | Observance |
| Thu | Dec 31 | 2015 | New Year's Eve | Observance |
| Sat | Dec 31 | 2016 | New Year's Eve | Observance |
| Sun | Dec 31 | 2017 | New Year's Eve | Observance |
| Mon | Dec 31 | 2018 | New Year's Eve | Observance |
| Tue | Dec 31 | 2019 | New Year's Eve | Observance |
| Thu | Dec 31 | 2020 | New Year's Eve | Observance |
Other holidays in December 2014 in Mexico
Other calendars
Related links