Day of the Virgin of Guadalupe in Mexico
Quick Facts
One of the most celebrated days in the Mexican calendar is the Day of Our Lady Guadalupe, which commemorates the belief that Jesus' mother appeared in Mexico in 1531.
Local names
| Name | Language |
| --- | --- |
| Day of the Virgin of Guadalupe | English |
| Día de la Virgen de Guadalupe | Spanish |
| Tag der Jungfrau von Guadalupe | German |
Day of the Virgin of Guadalupe 2014
Friday, December 12, 2014
Day of the Virgin of Guadalupe 2015
Saturday, December 12, 2015
List of dates for other years
The Day of the Virgin of Guadalupe (Día de la Virgen de Guadalupe) is a popular Catholic feast that celebrates the belief that a man encountered the Virgin Mary, Mexico's patron saint, in Mexico City on December 9 and 12, 1531.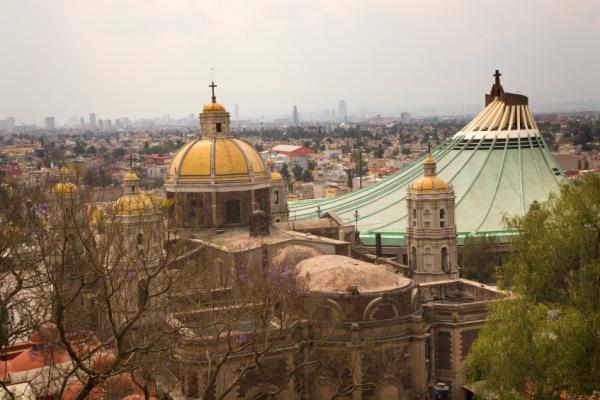 ©iStockphoto.com/bpperry
Celebrate Our Lady of Guadalupe Day
Public celebrations, or fiestas, are held in honor of Mary, the Virgin of Guadalupe, on December 12. Catholics from across Mexico and other countries pay pilgrimage to see an image of Mary (Virgen Morena), believed to be authentic, in the Basilica of Guadalupe in Mexico City. Children are dressed in traditional costumes and are blessed in churches. Thousands of people come to church to pray.
What's Open or Closed?
Our Lady of Guadalupe Day is not a federal public holiday Mexico, but it is a religious festival, so many streets, roads, and transport providers are busy on December 12. It is an optional holiday for some workers and a holiday for banks and other financial sector organizations. People intending on travelling via public transport in Mexico should check with public transit authorities on any timetable or route changes.
About Our Lady of Guadalupe Day
It is believed that a man named Juan Diego encountered the Virgin Mary twice in Mexico City, on December 9 and December 12 in 1531. According to legend, Mary told Juan to ask the bishop to build a church on Tepeyac Hill. However, the bishop needed proof of Juan's encounter and asked for a miracle. Juan returned to the hill to see roses in a spot where there were previously cacti. When Juan Diego returned, he showed the roses to the archbishop and also revealed an image on his cloak of the Lady of Guadalupe. The bishop was convinced of the miracle and built a church in honor of the event.
Did you know?
According to the story of the Lady of Guadalupe, Mary spoke in the Nahuatl language when she appeared to Diego. It is said that millions of indigenous people in Mexico were converted to Catholicism as a result of her appearance and miracle.
Day of the Virgin of Guadalupe Observances
| Weekday | Date | Year | Name | Holiday type |
| --- | --- | --- | --- | --- |
| Wed | Dec 12 | 1990 | Day of the Virgin of Guadalupe | Observance |
| Thu | Dec 12 | 1991 | Day of the Virgin of Guadalupe | Observance |
| Sat | Dec 12 | 1992 | Day of the Virgin of Guadalupe | Observance |
| Sun | Dec 12 | 1993 | Day of the Virgin of Guadalupe | Observance |
| Mon | Dec 12 | 1994 | Day of the Virgin of Guadalupe | Observance |
| Tue | Dec 12 | 1995 | Day of the Virgin of Guadalupe | Observance |
| Thu | Dec 12 | 1996 | Day of the Virgin of Guadalupe | Observance |
| Fri | Dec 12 | 1997 | Day of the Virgin of Guadalupe | Observance |
| Sat | Dec 12 | 1998 | Day of the Virgin of Guadalupe | Observance |
| Sun | Dec 12 | 1999 | Day of the Virgin of Guadalupe | Observance |
| Tue | Dec 12 | 2000 | Day of the Virgin of Guadalupe | Observance |
| Wed | Dec 12 | 2001 | Day of the Virgin of Guadalupe | Observance |
| Thu | Dec 12 | 2002 | Day of the Virgin of Guadalupe | Observance |
| Fri | Dec 12 | 2003 | Day of the Virgin of Guadalupe | Observance |
| Sun | Dec 12 | 2004 | Day of the Virgin of Guadalupe | Observance |
| Mon | Dec 12 | 2005 | Day of the Virgin of Guadalupe | Observance |
| Tue | Dec 12 | 2006 | Day of the Virgin of Guadalupe | Observance |
| Wed | Dec 12 | 2007 | Day of the Virgin of Guadalupe | Observance |
| Fri | Dec 12 | 2008 | Day of the Virgin of Guadalupe | Observance |
| Sat | Dec 12 | 2009 | Day of the Virgin of Guadalupe | Observance |
| Sun | Dec 12 | 2010 | Day of the Virgin of Guadalupe | Observance |
| Mon | Dec 12 | 2011 | Day of the Virgin of Guadalupe | Observance |
| Wed | Dec 12 | 2012 | Day of the Virgin of Guadalupe | Observance |
| Thu | Dec 12 | 2013 | Day of the Virgin of Guadalupe | Observance |
| Fri | Dec 12 | 2014 | Day of the Virgin of Guadalupe | Bank holiday |
| Sat | Dec 12 | 2015 | Day of the Virgin of Guadalupe | Bank holiday |
| Mon | Dec 12 | 2016 | Day of the Virgin of Guadalupe | Bank holiday |
| Tue | Dec 12 | 2017 | Day of the Virgin of Guadalupe | Bank holiday |
| Wed | Dec 12 | 2018 | Day of the Virgin of Guadalupe | Bank holiday |
| Thu | Dec 12 | 2019 | Day of the Virgin of Guadalupe | Bank holiday |
| Sat | Dec 12 | 2020 | Day of the Virgin of Guadalupe | Bank holiday |
Other holidays in December 2014 in Mexico
Other calendars
Related links