Mărțișor in Romania
Quick Facts
Mărțișor in Romania celebrates the start of spring. The name stems from the word March, which is "Martie" in Romanian.
Local names
| Name | Language |
| --- | --- |
| Mărțișor | Romanian |
| Mărțișor | English |
| Mărțișor | German |
Mărțișor 2014
Saturday, March 1, 2014
Mărțișor 2015
Sunday, March 1, 2015
List of dates for other years
Romanians celebrate Mărțișor on March 1 to welcome the spring time and appreciate life.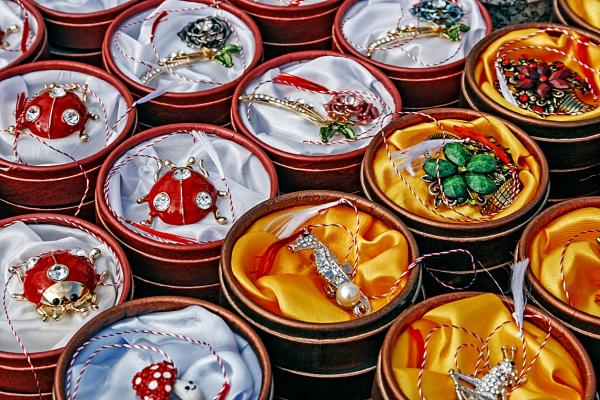 ©thinkstockphoto.com
Celebrate Martisor
Read and white threads, known as "snur" in Romanian, are tied to small gifts to be given to friends and family members. These symbolize friendship and appreciation.
Public life
Mărțișor is an observance and not a public holiday in Romania.
About Martisor
Some say that Mărțișor celebrations date back to as far as 8000 years ago. It is believed that the celebration stems from Roman origins, while others claim that it is a tradition of the Dacians, an ancient group of people who lived in and around the Carpathian Mountains and west of the Black Sea. Both the Romans and Dacians celebrated New Year's Day in early March, which also marked the start of the spring season in the northern hemisphere.
Mărțișor Observances
| Weekday | Date | Year | Name | Holiday type |
| --- | --- | --- | --- | --- |
| Thu | Mar 1 | 1990 | Mărțișor | Observance |
| Fri | Mar 1 | 1991 | Mărțișor | Observance |
| Sun | Mar 1 | 1992 | Mărțișor | Observance |
| Mon | Mar 1 | 1993 | Mărțișor | Observance |
| Tue | Mar 1 | 1994 | Mărțișor | Observance |
| Wed | Mar 1 | 1995 | Mărțișor | Observance |
| Fri | Mar 1 | 1996 | Mărțișor | Observance |
| Sat | Mar 1 | 1997 | Mărțișor | Observance |
| Sun | Mar 1 | 1998 | Mărțișor | Observance |
| Mon | Mar 1 | 1999 | Mărțișor | Observance |
| Wed | Mar 1 | 2000 | Mărțișor | Observance |
| Thu | Mar 1 | 2001 | Mărțișor | Observance |
| Fri | Mar 1 | 2002 | Mărțișor | Observance |
| Sat | Mar 1 | 2003 | Mărțișor | Observance |
| Mon | Mar 1 | 2004 | Mărțișor | Observance |
| Tue | Mar 1 | 2005 | Mărțișor | Observance |
| Wed | Mar 1 | 2006 | Mărțișor | Observance |
| Thu | Mar 1 | 2007 | Mărțișor | Observance |
| Sat | Mar 1 | 2008 | Mărțișor | Observance |
| Sun | Mar 1 | 2009 | Mărțișor | Observance |
| Mon | Mar 1 | 2010 | Mărțișor | Observance |
| Tue | Mar 1 | 2011 | Mărțișor | Observance |
| Thu | Mar 1 | 2012 | Mărțișor | Observance |
| Fri | Mar 1 | 2013 | Mărțișor | Observance |
| Sat | Mar 1 | 2014 | Mărțișor | Observance |
| Sun | Mar 1 | 2015 | Mărțișor | Observance |
| Tue | Mar 1 | 2016 | Mărțișor | Observance |
| Wed | Mar 1 | 2017 | Mărțișor | Observance |
| Thu | Mar 1 | 2018 | Mărțișor | Observance |
| Fri | Mar 1 | 2019 | Mărțișor | Observance |
| Sun | Mar 1 | 2020 | Mărțișor | Observance |
Other holidays in March 2014 in Romania
Other calendars
Related links