Easter Sunday in United Kingdom
Quick Facts
Easter Sunday is a Christian holiday that celebrates Jesus Christ's resurrection.
Name
Easter Sunday
Easter Sunday 2014
Sunday, April 20, 2014
Easter Sunday 2015
Sunday, April 5, 2015
List of dates for other years
Easter Sunday in the United Kingdom is traditionally about Jesus Christ's resurrection from death, according to Christian belief. However, many people use the day to decorate Easter eggs, share chocolate eggs and participate in Easter egg competitions.
The Easter date depends on the ecclesiastical approximation of the March equinox. It is the first Sunday after the first full moon on or after the March equinox.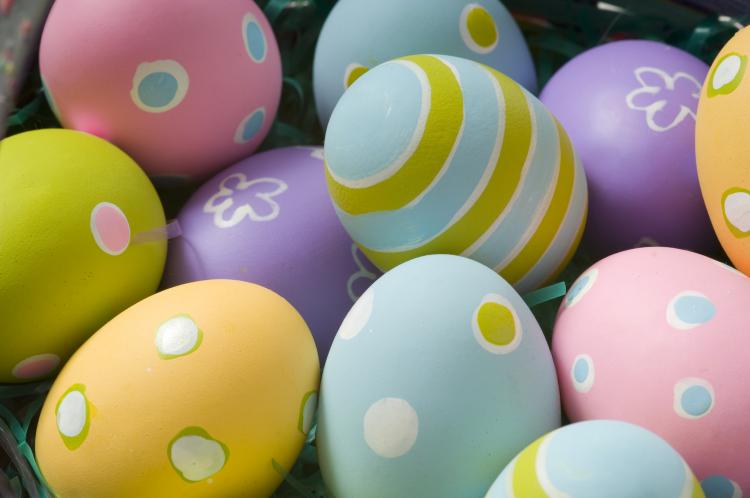 ©iStockphoto.com/Shannon Long
What do people do?
People who regularly attend church often attend special services on Easter Sunday. These may be longer or more elaborate than on other Sundays. In churches, it is generally a festive occasion with an emphasis on the dawn of a new life. In Battersea Park in London, there is a large Easter parade.
Easter is an important time for the confectionery industry. In the United Kingdom, Easter eggs are often large hollow chocolate eggs filled with bonbons or other candy. The eggs are covered in decorative foil and packaged in elaborate boxes.
Many people celebrate Easter Sunday by decorating, exchanging or searching for eggs. The eggs may be fresh or boiled eggs laid by chickens or other birds, chocolate eggs or eggs made of other materials. Many children believe that the Easter bunny or rabbit comes to their house or garden to hide eggs. They may search for these eggs or find that the Easter bunny has left them in an obvious place.
Some businesses and attractions hold Easter egg hunts. These can be competitions to see who can collect the most eggs. In some parts of the United Kingdom, people roll hard boiled down slopes. In other places, there is a game in which people roll hard boiled eggs against other peoples' eggs. The winner is the person whose egg remains whole. After the game, the eggs are eaten. In some parts of Scotland, fondant filled chocolate eggs about the size of a hen's egg are covered in batter and deep fried.
Public life
On Easter Sunday nearly all non-essential businesses and organizations are closed. In England and Wales, stores are also closed. In Scotland, they are allowed to open. Public transport systems may run on a different schedule from other Sundays. In some areas there may be no public transport.
Background and symbols
Easter Sunday is the first Sunday after the first full moon on or after the vernal equinox. For many people, Easter marks the celebration of the resurrection of Jesus Christ after his crucifixion. However, many of the origins of the customs around Easter originate in the pagan beliefs held by the inhabitants of England, Wales, Scotland and Ireland before they were converted to Christianity.
About Easter Sunday in other countries
Read more about
Easter Sunday
.
Easter Sunday Observances
| Weekday | Date | Year | Name | Holiday type | Where it is observed |
| --- | --- | --- | --- | --- | --- |
| Sun | Apr 15 | 1990 | Easter Sunday | Bank holiday | |
| Sun | Mar 31 | 1991 | Easter Sunday | Bank holiday | |
| Sun | Apr 19 | 1992 | Easter Sunday | Bank holiday | |
| Sun | Apr 11 | 1993 | Easter Sunday | Bank holiday | |
| Sun | Apr 3 | 1994 | Easter Sunday | Bank holiday | |
| Sun | Apr 16 | 1995 | Easter Sunday | Bank holiday | |
| Sun | Apr 7 | 1996 | Easter Sunday | Bank holiday | |
| Sun | Mar 30 | 1997 | Easter Sunday | Bank holiday | |
| Sun | Apr 12 | 1998 | Easter Sunday | Bank holiday | |
| Sun | Apr 4 | 1999 | Easter Sunday | Bank holiday | |
| Sun | Apr 23 | 2000 | Easter Sunday | Bank holiday | |
| Sun | Apr 15 | 2001 | Easter Sunday | Bank holiday | |
| Sun | Mar 31 | 2002 | Easter Sunday | Bank holiday | |
| Sun | Apr 20 | 2003 | Easter Sunday | Bank holiday | |
| Sun | Apr 11 | 2004 | Easter Sunday | Bank holiday | |
| Sun | Mar 27 | 2005 | Easter Sunday | Bank holiday | |
| Sun | Apr 16 | 2006 | Easter Sunday | Bank holiday | |
| Sun | Apr 8 | 2007 | Easter Sunday | Bank holiday | |
| Sun | Mar 23 | 2008 | Easter Sunday | Bank holiday | |
| Sun | Apr 12 | 2009 | Easter Sunday | Bank holiday | |
| Sun | Apr 4 | 2010 | Easter Sunday | Bank holiday | |
| Sun | Apr 24 | 2011 | Easter Sunday | Bank holiday | |
| Sun | Apr 8 | 2012 | Easter Sunday | Bank holiday | |
| Sun | Mar 31 | 2013 | Easter Sunday | Bank holiday | |
| Sun | Apr 20 | 2014 | Easter Sunday | Bank holiday | |
| Sun | Apr 5 | 2015 | Easter Sunday | Bank holiday | |
| Sun | Mar 27 | 2016 | Easter Sunday | Bank holiday | |
| Sun | Apr 16 | 2017 | Easter Sunday | Bank holiday | |
| Sun | Apr 1 | 2018 | Easter Sunday | Bank holiday | |
| Sun | Apr 21 | 2019 | Easter Sunday | Bank holiday | |
| Sun | Apr 12 | 2020 | Easter Sunday | Bank holiday | |
Related holidays
Other holidays in April 2014 in United Kingdom
Other calendars
Related links