Chinese New Year in United States
Quick Facts
Chinese New Year marks the first day of the New Year in the Chinese calendar.
Local names
| Name | Language |
| --- | --- |
| Chinese New Year | English |
| Año Nuevo Chino | Spanish |
| ראש השנה הסיני | Hebrew |
| سنة صينية جديدة | Arabic |
| 중국의 설 | Korean |
| Chinesisches Neujahr | German |
Alternative name
Spring Festival
Chinese New Year 2014
Friday, January 31, 2014
Chinese New Year 2015
Thursday, February 19, 2015
List of dates for other years
Many people in countries such as the United States celebrate Chinese New Year, also known as the Spring Festival or the Lunar New Year. It marks the first day of the New Year in the Chinese calendar.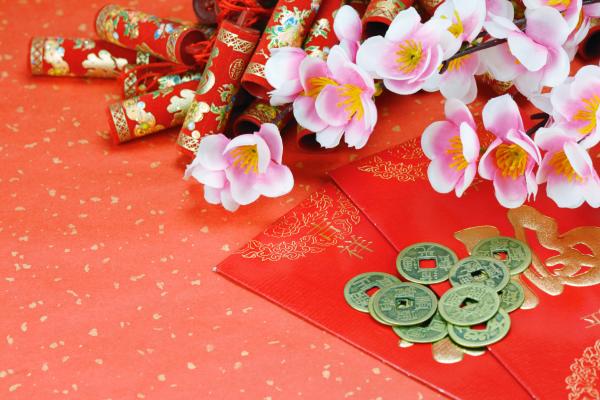 ©iStockphoto.com/Liang Zhang
What do people do?
Many individuals and communities, particularly Chinese communities, in the United States take part in the Chinese New Year celebrations, which can last for days. Chinese New Year celebrations in the United States have, over the years, included activities and events such as:
Chinese New Year parades featuring colorful costumes, floats, firecrackers and other attractions.
Various dances, including lion and dragon dances.
Chinatown fun runs or walks.
Balls and pageants.
Street fairs.
Firework displays.
Some organizations may hold special contests or make announcements to coincide with Chinese New Year. For example, some newspapers or magazines may announce the top 10 Chinese restaurants in a city or town on Chinese New Year. It is customary for many Chinese-American families to spend time together and exchange gifts, including money wrapped in red and gold packages that are usually given to children.
Public life
Chinese New Year is not a federal public holiday in the United States. However, some Chinese businesses may be closed on the day or amend their business hours to take part in the Chinese New Year festivities. There may be heavy traffic and some streets may be closed in towns or cities where Chinese New Year celebrations are held.
Background
According to the U.S. Census Bureau (Census 2000: Chinese Largest Asian Group in the United States; March 4, 2002), the Chinese comprised more than 20 percent of the 11.9 million people who identified themselves as Asians in the United States' Census 2000. That translates into 2.7 million reporting as Chinese – the largest Asian group in the United States.
Chinese historical organizations in the United States can trace the arrival of the Chinese in North, Central and South America as far back as the 1600s. Many Chinese immigrants settled in the United States during the 19th century. With immigration, came Chinese traditions and events such as Chinese New Year, which is now largely celebrated in many communities across the United States.
Symbols
Chinese New Year has various symbols and traditions. For example, flowers are an important part of New Year decorations. Writings that refer to good luck are often seen in homes and business environments. They are usually written by brush on a diamond-shaped piece of red paper. Tangerines and oranges are also displayed in many homes and stores as a sign of luck and wealth.
Envelopes with money (Hong Bao, Ang Pao, or Lai See) often come in the color red, which symbolizes happiness, good luck, success and good fortune. These envelopes are mainly given as presents to children. Each Chinese New Year is associated with an animal name for one of 12 animals in the Chinese zodiac.
About Chinese New Year in other countries
Read more about
Chinese New Year
.
Chinese New Year Observances
| Weekday | Date | Year | Name | Holiday type | Where it is observed |
| --- | --- | --- | --- | --- | --- |
| Sat | Jan 27 | 1990 | Chinese New Year | Observance | |
| Fri | Feb 15 | 1991 | Chinese New Year | Observance | |
| Tue | Feb 4 | 1992 | Chinese New Year | Observance | |
| Sat | Jan 23 | 1993 | Chinese New Year | Observance | |
| Thu | Feb 10 | 1994 | Chinese New Year | Observance | |
| Tue | Jan 31 | 1995 | Chinese New Year | Observance | |
| Mon | Feb 19 | 1996 | Chinese New Year | Observance | |
| Fri | Feb 7 | 1997 | Chinese New Year | Observance | |
| Wed | Jan 28 | 1998 | Chinese New Year | Observance | |
| Tue | Feb 16 | 1999 | Chinese New Year | Observance | |
| Sat | Feb 5 | 2000 | Chinese New Year | Observance | |
| Wed | Jan 24 | 2001 | Chinese New Year | Observance | |
| Tue | Feb 12 | 2002 | Chinese New Year | Observance | |
| Sat | Feb 1 | 2003 | Chinese New Year | Observance | |
| Thu | Jan 22 | 2004 | Chinese New Year | Observance | |
| Wed | Feb 9 | 2005 | Chinese New Year | Observance | |
| Sun | Jan 29 | 2006 | Chinese New Year | Observance | |
| Sun | Feb 18 | 2007 | Chinese New Year | Observance | |
| Thu | Feb 7 | 2008 | Chinese New Year | Observance | |
| Mon | Jan 26 | 2009 | Chinese New Year | Observance | |
| Sun | Feb 14 | 2010 | Chinese New Year | Observance | |
| Thu | Feb 3 | 2011 | Chinese New Year | Observance | |
| Mon | Jan 23 | 2012 | Chinese New Year | Observance | |
| Sun | Feb 10 | 2013 | Chinese New Year | Observance | |
| Fri | Jan 31 | 2014 | Chinese New Year | Observance | |
| Thu | Feb 19 | 2015 | Chinese New Year | Observance | |
| Mon | Feb 8 | 2016 | Chinese New Year | Observance | |
| Sat | Jan 28 | 2017 | Chinese New Year | Observance | |
| Fri | Feb 16 | 2018 | Chinese New Year | Observance | |
| Tue | Feb 5 | 2019 | Chinese New Year | Observance | |
| Sat | Jan 25 | 2020 | Chinese New Year | Observance | |
Other holidays in January 2014 in United States
Other calendars
Related links