How To Create a Printable PDF Calendar
Need help to create a Printable PDF Calendar?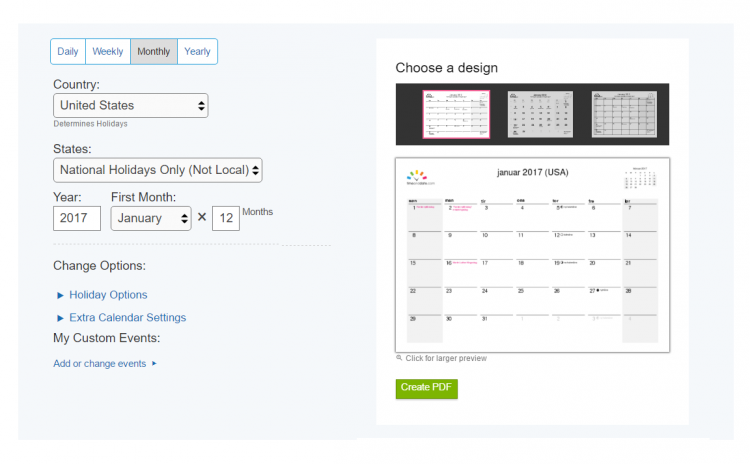 1. Calendar Type & Design
Choose a calendar type by clicking 1 of the buttons: "Daily", "Weekly", "Monthly", or "Yearly".
Daily: 1 day per page.
Weekly: 1 week per page.
Monthly: 1 month per page, i.e. 12 pages per year.
Yearly: 1 year per page.
Unless you have chosen the daily calendar, you can also choose between different designs. Simply click on the preview to chose the one you prefer. You can change to a different design at any point in the process.
If you have chosen a weekly calendar, and you are used to starting your week on a Sunday, you must choose the design to the left, with 1 equal, wide entry per day, as this is the only option which allows Sunday as the 1st day of the week.
2. Country & State
The service defaults to the calendar for the country you are located in or to the location chosen in your settings. Choose a different country and/or state in the drop down menus.
3. Start & End Dates
Now choose start and end dates for your calendar.
Daily & weekly: Choose or set dates.
Monthly: Add up to 36 months per calendar-PDF.
Yearly: Add up to 3 years per calendar-PDF.
4. Change Options:
Holiday Options:
The service defaults to "Automatic/default selection" which includes the holidays & observances that are normally included in calendars for the country you are in/have chosen.
Click the blue "Holiday Options" link to open a list where you can include or exclude public or local holidays, observances, equinoxes & solstices, Daylight Saving Time changes, and UN & World Observances.
Click the blue "Religious Days" link to include various religious celebrations.
For an empty calendar, untick all the boxes.
To change the font color for holidays and observances, click either of the color boxes, and choose the color you prefer.
Extra Calendar Settings
These settings are immediately reflected in the preview.
Calendar heading: Enter any title for your calendar.
Moon phases: Choose if you want to include dates for the 4 primary Moon phases, New Moon, 1st Quarter, Full Moon, and 3rd Quarter.
List holidays on a new page.
You can also include "week numbers".
Tick "Show Next Month Preview" to include a miniature calendar for the following month in the top right corner of your PDF.
"Start Day of the week" defaults to either Sunday or Monday, depending on your country. Please note that the "Start Week on..." is no longer available if you have ticked the "Week Numbers" box.

Calendar Language: The languages available for each country's calendar appear in the drop-down menu. The language is used for days of the week, months, holidays, and observances.

English is available for all countries, along with German, and Norwegian as timeanddate.com have mirror sites in these languages; timeanddate.de and timeanddate.no. In addition, local language(s) are available for most countries' calendars.

Here is a list of all the different languages and holidays available in our calendar database.

Paper Format: Choose between A4, A3, letter, legal, and ledger.
Color Mode: Choose between "color" or "black & white" (grayscale).
Font size: Use the "Aa" buttons to choose larger or smaller fonts.
Click the green "Create PDF" button to save your calendar. You can create as many calendars as you like.
Saving, Sharing and Printing
On computers, the PDF file will save in your "Downloads" folder and it will be named something along the lines of "United States January 2017 - December 2017". You can open and view the file, print it, or share it via email or upload at your convenience. On mobile devices, you will be notified about where the PDF is stored.
Adding Your Own Events
If you wish to add your own events to the calendar, go to adding your events to an event list.
Include your event(s) in the PDF by ticking off the list(s) below the header "My Custom Events:" before you create the PDF.

Create Calendar With Holidays
---
---

Calendar Types