Brazil: Daylight Saving Time dates for 2007–2008 announced
Many Brazilian cities observe daylight saving time during the summer months in the southern hemisphere.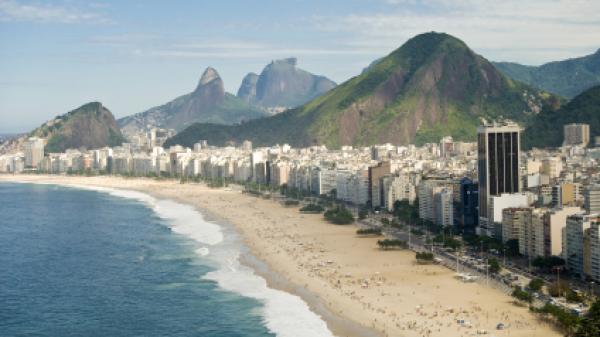 Most southern states in Brazil will observe Daylight Saving Time (DST) from Sunday, October 14, 2007 to Sunday, February 17 of 2008. The clocks are adjusted one hour forward at the start of the day (midnight between Saturday and Sunday) on October 14, 2007. The clocks should be set back one hour at midnight between Saturday and Sunday on Febrary 17, 2008.
Brazil's dates change often, so it is difficult to predict dates for future years.
Affected states
The northern part of the country (states north of Distrito Federal (Brasilia), including Mato Grosso and Bahia) do not observe DST, while states mainly south of 15° sou th will observe DST.
States and capitals affected by Daylight Saving Time:
Official announcement
An announcement was published by the Ministério de Minas e Energia (Ministry of Mines and Energy) and is available on their web site in Portugese: 37th edition. The same states will observe DST as last year.
Dates of Daylight Saving Time 1985–2008
These are the dates Daylight Saving Time started and ended in most of Brazil since 1985. Also, note that some of the above states did not observe DST all these years, but those locations that did observe DST used these common start and ending dates.
| Year | Start date | End date | Daylight duration |
| --- | --- | --- | --- |
| 1985–1986 | Saturday, November 2, 1985 | Saturday, March 15, 1986 | 19 weeks |
| 1986–1987 | Saturday, October 25, 1986 | Saturday, February 14, 1987 | 16 weeks |
| 1987–1988 | Sunday, October 25, 1987 | Sunday, February 7, 1988 | 15 weeks |
| 1988–1989 | Sunday, October 16, 1988 | Sunday, January 29, 1989 | 15 weeks |
| 1989–1990 | Sunday, October 15, 1989 | Sunday, February 11, 1990 | 17 weeks |
| 1990–1991 | Sunday, October 21, 1990 | Sunday, February 17, 1991 | 17 weeks |
| 1991–1992 | Sunday, October 20, 1991 | Sunday, February 9, 1992 | 16 weeks |
| 1992–1993 | Sunday, October 25, 1992 | Sunday, January 31, 1993 | 14 weeks |
| 1993–1994 | Sunday, October 17, 1993 | Sunday, February 20, 1994 | 18 weeks |
| 1994–1995 | Sunday, October 16, 1994 | Sunday, February 19, 1995 | 18 weeks |
| 1995–1996 | Sunday, October 15, 1995 | Sunday, February 11, 1996 | 17 weeks |
| 1996–1997 | Sunday, October 6, 1996 | Sunday, February 16, 1997 | 19 weeks |
| 1997–1998 | Monday, October 6, 1997 | Sunday, March 1, 1998 | 20 weeks and 6 days |
| 1998–1999 | Sunday, October 11, 1998 | Sunday, February 21, 1999 | 19 weeks |
| 1999–2000 | Sunday, October 3, 1999 | Sunday, February 27, 2000 | 21 weeks |
| 2000–2001 | Sunday, October 8, 2000 | Sunday, February 18, 2001 | 19 weeks |
| 2001–2002 | Sunday, October 14, 2001 | Sunday, February 17, 2002 | 18 weeks |
| 2002–2003 | Sunday, November 3, 2002 | Sunday, February 16, 2003 | 15 weeks |
| 2003–2004 | Sunday, October 19, 2003 | Sunday, February 15, 2004 | 17 weeks |
| 2004–2005 | Tuesday, November 2, 2004 | Sunday, February 20, 2005 | 15 weeks and 5 days |
| 2005–2006 | Sunday, October 16, 2005 | Sunday, February 19, 2006 | 18 weeks |
| 2006–2007 | Sunday, November 5, 2006 | Sunday, February 25, 2007 | 16 weeks |
| 2007–2008 | Sunday, October 14, 2007 | Sunday, February 17, 2008 | 18 weeks |
| 2008–2009 | Sunday, October 19, 2008 | Sunday, February 15, 2009 | 17 weeks |
| 2009–2010 | Sunday, October 18, 2009 | Sunday, February 21, 2010 | 18 weeks |
| 2010–2011 | Sunday, October 17, 2010 | Sunday, February 20, 2011 | 18 weeks |
| 2011–2012 | Sunday, October 16, 2011 | Sunday, February 26, 2012 | 19 weeks |
| 2012–2013 | Sunday, October 21, 2012 | Sunday, February 17, 2013 | 17 weeks |
| 2013–2014 | Sunday, October 20, 2013 | Sunday, February 16, 2014 | 17 weeks |
| 2014–2015 | Sunday, October 19, 2014 | Sunday, February 22, 2015 | 18 weeks |