Most Europeans turn clocks back October 30, 2011
The Weltzeituhr in Berlin, Germany: Berlin is one of the many European cities to end DST on October 30, 2011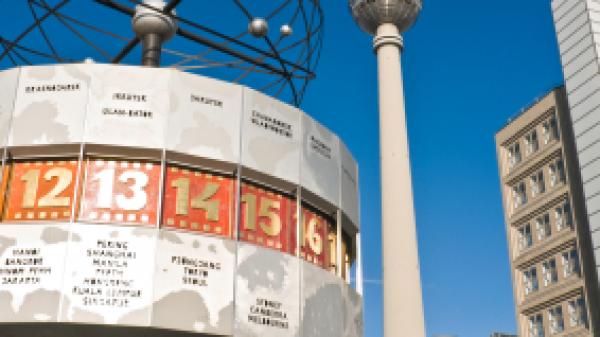 Most Europeans will turn their clocks back when daylight saving time (DST) ends in many places in Europe at 1am (01:00) Coordinated Universal Time (UTC) on Sunday, October 30, 2011.
DST clock changes worldwide
.
Synchronized Time
Most countries in Europe follow a synchronized daylight saving time starting from the last Sunday of March until the last Sunday of October each year. Not all European countries follow the European daylight saving schedule, so find which countries will end DST on the last Sunday of October.
Find the best times to call across time zones.
Local time in European cities.
Many people in Europe will adjust their clocks one hour back in their local times corresponding 1am (01:00) UTC, regardless of their time zone. The changes will occur for these cities, as an example:
DST in Europe starts again on March 25, 2012.
No DST Changes
Russia, Ukraine and Belarus recently made changes so they will not follow Europe's DST schedule on October 30, 2011. Iceland also does not observe DST.