Morocco's DST Schedule Ends Before Ramadan
Morocco will move its clocks back one hour on August 8, before the start of Ramadan in 2010.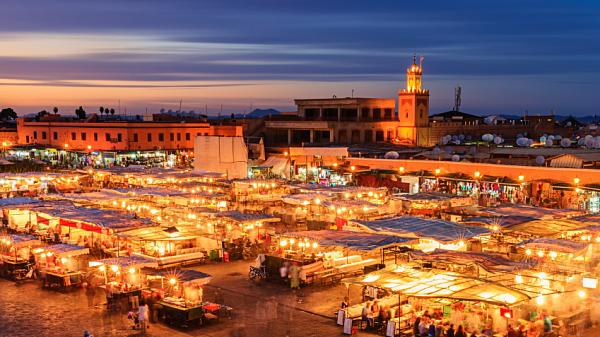 Morocco's daylight saving time (DST) schedule will end at midnight (00:00) local time between Saturday, August 7, and Sunday, August 8, in 2010. The nation's clocks will move back from being one hour ahead of Coordinated Universal Time (UTC) to UTC+0. This move will occur before the start of Ramadan, which is on August 11.
DST Ends Days Before Ramadan
Daylight saving time (DST) will end in Morocco at midnight (00:00) local time between Saturday, August 7, and Sunday, August 8. This information was confirmed by various news and information sources that state that the end of DST in Morocco will occur before the start of Ramadan, so that organizations and people will have time to prepare themselves for the holy month.
Morocco began observing DST in order to save energy and to have their time zone correspond with their main trade partners in the European Union (EU). During daylight saving time, Morocco observes Western European Summer Time (WEST), which is UTC+1. The time will revert one hour back to (UTC+0) Western European Time (WET) on August 8.
Parts of the Western Sahara that are controlled by Morocco will also change their clocks with the rest of the nation when DST ends on August 8.
History of DST in Morocco
Daylight saving time was observed in Morocco during the 1970s but it was discontinued after 1978 due to its unpopularity and many felt that daylight saving time did not create any major benefits for the country and its people at the time.
The Moroccan government trialed DST for about four months in 2008 and found the trial period to be a success. DST continued to be observed in Morocco which helped the nation achieve significant savings for the past two years.
DST aims to reduce the need for lighting in households and in different public and industrial areas by starting earlier in the day and finishing earlier. Additionally, Morocco is able to improve their communications and work in synchronization with major trading partners in other countries, particularly in the EU.
Since the adoption of DST in Morocco in 2008, the DST schedule has accommodated for the holy month of Ramadan. There is a chance that Morocco will adopt the same DST schedule in the upcoming years as Ramadan moves earlier each year.