Last change: 2010
Oct 31, 2010, 3:00 am
| | |
| --- | --- |
| Start DST: | Sunday, March 28, 2010 — No time change due to simultaneous time zone change |
| End DST: | Sunday, October 31, 2010 — 1 hour backward |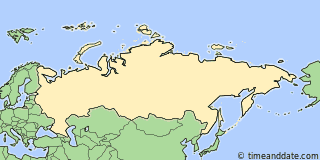 Mar 28, 2010 - Daylight Saving Time Started
DST started on Sunday, March 28, 2010, 2:00:00 am. However, clocks were not changed because Big Diomede Island switched time zones at the same time.
More info:
Russia Reduces Number of Time Zones

Daylight Saving Time in Other Years
DST changes do not necessarily occur on the same date every year.
Data for the years before 1970 is not available for Big Diomede Island, however, we have earlier time zone history for Anadyr available.