Time Zone in 33°28'N, 112°07'W, USA
◢
Tuesday, October 22, 2019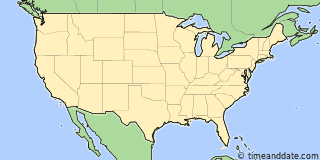 2019 Time Zones - 33°28'N, 112°07'W
Jan
Feb
Mar
Apr
May
Jun
Jul
Aug
Sep
Oct
Nov
Dec
The graph above shows that there is no clock change in 33°28'N, 112°07'W during 2019.
Time Changes in 33°28'N, 112°07'W Over the Years
Daylight Saving Time (DST) changes do not necessarily occur on the same date every year.
Year
Date & Time
Abbreviation
Time Change
Offset After
2010 — 2019
No changes, UTC -7 hours all of the period
* All times are local 33°28'N, 112°07'W time.
Data for the years before 1970 is not available for 33°28'N, 112°07'W, however, we have earlier time zone history for Phoenix available.
More Information
Time Zone Tools

33°28'N, 112°07'W
USA
5:1735pm
Tuesday, October 22, 2019