October 23, 2014 — Partial Solar Eclipse
The partial solar eclipse on October 23, 2014 will be visible from many parts of the United States and Canada.
Was this Partial Solar Eclipse visible in Washington DC?
---
Where the Eclipse Was Seen
Regions that saw at least a partial eclipse: East in Asia, North America, Pacific, Atlantic.
The eclipse will begin near the Kamchatka Peninsula in eastern Sibera at 19:38 (7:38 pm) UTC. As it moves east, much of North America will be able to see a partial solar eclipse. The maximum eclipse will take place at 21:45 (9:45 pm) UTC over Canada's Nunavut Territory near Prince of Wales Island.
The eclipse will end at 23:52 (11:52 pm) UTC.
Was this eclipse visible in Washington DC?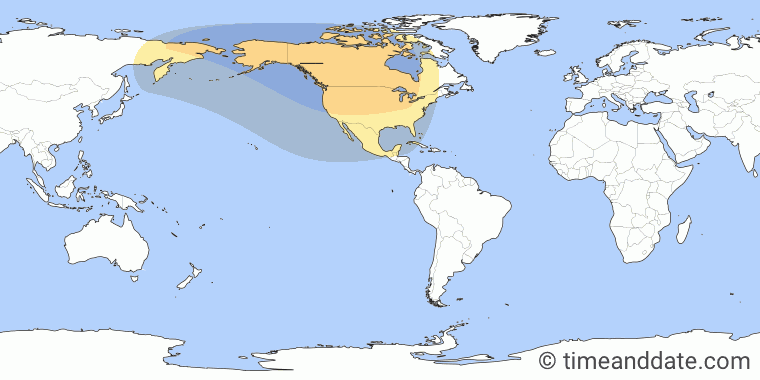 When the Eclipse Happened Worldwide
The eclipse started at one location and ended at another. The times below are actual times (in UTC) when the eclipse occurred.
| Event | UTC Time | Time in Washington DC* |
| --- | --- | --- |
| First location to see partial eclipse begin | Oct 23 at 7:37 PM | Oct 23 at 3:37 PM |
| Maximum Eclipse | Oct 23 at 9:44 PM | Oct 23 at 5:44 PM |
| Last location to see partial Eclipse end | Oct 23 at 11:51 PM | Oct 23 at 7:51 PM |
* Local times shown do not refer to when the eclipse could be observed from Washington DC. Instead, they indicate the times when the eclipse began, was at its max, and ended, somewhere else on earth. The corresponding local times are useful if you wanted to view the eclipse via a live webcam.
Eclipses visible in Washington DC.
---
} ?>
Eclipses in Your City
---
Eclipses during year 2014
Oct 23, 2014 – Partial Solar Eclipse (this page)
---
Eclipses during year 2016
Eclipses during year 2017
See all Solar & Lunar Eclipses Worldwide
---
About Solar Eclipses
About Lunar Eclipses