Journalists, come join our Editorial Team!
Write for an audience of 2 million people per day!
Are you a journalist? At timeanddate, you can write for an audience of 2 million people per day!
We are looking for a bilingual (English/Norwegian) Web Editor to join our 30+ team of developers, designers, journalists, and astrophysicists, who make the magic happen at our Time and Date HQ in Stavanger, Norway.
You will be responsible for maintaining and expanding the content for one of the most central sections on timeanddate.com (Time and Time Zones) and contribute to timeanddate.no, our Norwegian site.
With over 11 nationalities represented, we are proud to have a talented team where everyone is included and welcome in our social work environment. Our company mission is to simplify life in a globalized world, and we're looking for writers with the motivation, attitude, and communication skills to put this into practice. Our daily work-life is encapsulated by our values of Collaboration, Trust, Respect, Evolution, and Enjoyment. We work smart and have fun while getting the job done.
This is your chance to become an essential part of a company at the forefront of its field!
As a Web Editor with us, some of your day-to-day tasks will include:
Writing evergreen articles for timeanddate.com and timeanddate.no
Joining our newsroom to write current news on time zones.
Helping your teammates by reviewing their articles and other content on timeanddate.
Maintaining our already published articles to keep them up to date with the latest research and most current SEO.
Our wish list for a dream candidate looks a bit like this:
We're looking for a versatile journalist with excellent language skills in both English and Norwegian to join our Editorial Team of five.
You will be writing evergreen articles for both .com and .no, so great writing skills and a firm grasp of vocabulary and grammar are needed in both camps.
We pride ourselves on being accurate and work closely with the other teams to provide accessible articles and services on time zones, astronomy, calendars, and holidays.
Ideally, you've experienced the fast pace of the newsroom, and you have a degree in journalism to back it up. Our news articles can get everything from 10.000 to 150.000 readers.
We are proud of being a common sight at the top of the Google SERP, and spend quite a bit of time optimizing our websites to keep them there, so it helps if you know a bit of SEO, UX, and HTML. We will of course provide support and help to get used to the tools needed.
But what can we offer you?
What you do here daily has a significant impact on both the website and in the company. With us, you can pour your heart into a project and follow it through its whole lifecycle and you will get a respected and renowned stage to display your skills. You can make changes and improvements as projects mature, working towards our long-term vision.
And we will of course provide you with:
Five weeks of holiday, in addition to Christmas, New Year's, and the Wednesday before Easter.
We have a social style of working with jogging groups during the workday, along with sauna, gaming, hiking, climbing, and quiz groups.
We offer HjemJobbHjem memberships for all employees and free parking on the premises. There are also secure bicycle parking and shower/locker facilities.
We go on yearly company trips to exciting places abroad and excursions to capture live footage of the eclipses happening around the world.
We offer a competitive salary, with pension options and insurance to attract and keep the best candidates.
Oh, and if you're really wild, you can join the Copenhagen half-marathon in 2023 with the rest of the Time and Date joggers.
The position is local, with a choice to work partially from home, but for very strong candidates, we are open to remote work options.
Think it would be a good fit?
Send us your application with up-to-date samples of your writing in both Norwegian and English. We look forward to getting to know you, and if you have any questions, don't hesitate to reach out.
Our

Company Values
Employee Benefits
Besides doing exciting work with great colleagues, the staff at Time and Date AS also enjoy a number of benefits and perks.
Flexible hours
Our working day is 7.5 hours. Are you an early bird or a night owl? With core hours from 9:00 to 15:00, we accommodate both, whether you prefer to catch that worm or burn the midnight oil.
We also offer a smooth home office solution to make things work on those odd days out.
Three-Course Meals Every Day
Discounted lunches are available in the cafeteria every day from 11:00 to 13:00. The all-you-can-eat buffet includes freshly made soup of the day, several hot courses, salad bar, sandwiches, fruits, cheese, desserts, and more!
Professional Development
We encourage our staff to stay current and updated on their skill set. Team members go to courses and conferences both at home and abroad.
Stay Healthy
We look after your health by providing extensive health/treatment insurance (Tryg behandlingsforsikring), which includes free treatments so you can get back in action as quickly as possible.
Pension Savings
We have retirement savings through Nordea Liv for all employees.
Getting to Work
Discounted Public Transport
Our company offers discounted monthly HjemJobbHjem-passes as well as access to electric city bikes. Every 15 minutes, the bus stops right outside the building with many more bus lines within walking distance. And the electric city bike stand is even closer to the entrance.
Secure Bike Parking & Free Parking
If you prefer to ride your bike, there are showers and changing rooms available. You can keep your bike safe in a separate, secure bike room. If you drive an electric car, charge it for free while you're at work. Oh, did we mention that parking is free and covered?
Shops & Cafes
Within walking distance, you'll find a shopping mall with cafes & restaurants, bakeries, groceries, homewares, clothing, shoes, sporting goods, office supplies, pet stores, several gyms, and much more.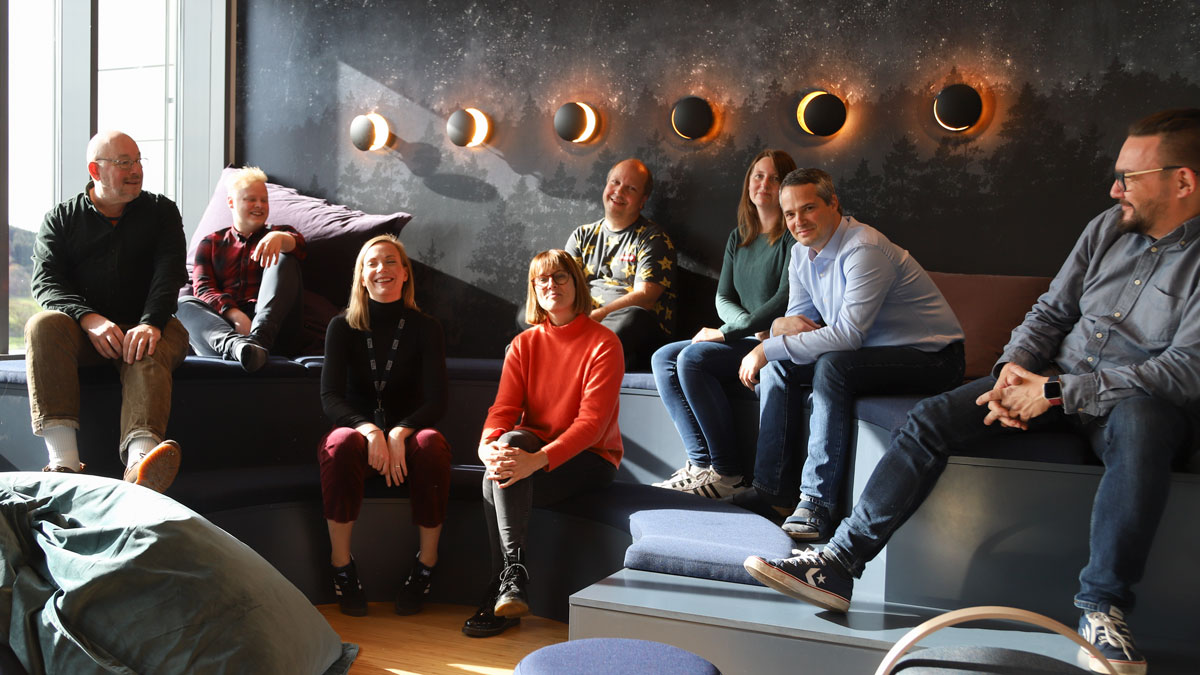 International Team
Diversity is important to us. We draw from each other's experiences, and the team reflects our global audience. Our working language is English. All internal communications, meetings, etc. are conducted in English, and we encourage all employees to participate with their points of view.
Trips &

Team Building

If all the perks above aren't enough to convince you that working here is fun, take a look at all the social experiences we have shared over the years, including company trips to Paris, Iceland, and Vienna.

Every year, the staff are invited to various social team building events ranging from mystery-solving to comedy shows, friendly competitions, and races, not to mention impromptu pizza parties, delicious dinners, lunches, and the annual Christmas party at great local venues.
Chasing Eclipses
If you've ever wanted to see a solar or lunar eclipse, this is the place to work! Chasing (and LIVE streaming) eclipses is the boss' passion project, and he always finds the best location anywhere in the world! So far, we have streamed from Angola, Greece, Morocco, Argentina, and Norway.