Christmas Eve in the United Kingdom
Christmas Eve is the Day before Christmas Day, which is annually on December 24, according to the Gregorian calendar. It is not a public holiday in the United Kingdom but it is a day of preparations for the Christmas season. The Christmas season includes the public holidays on Christmas Day, Boxing Day, New Year's Day and January 2 (Scotland only).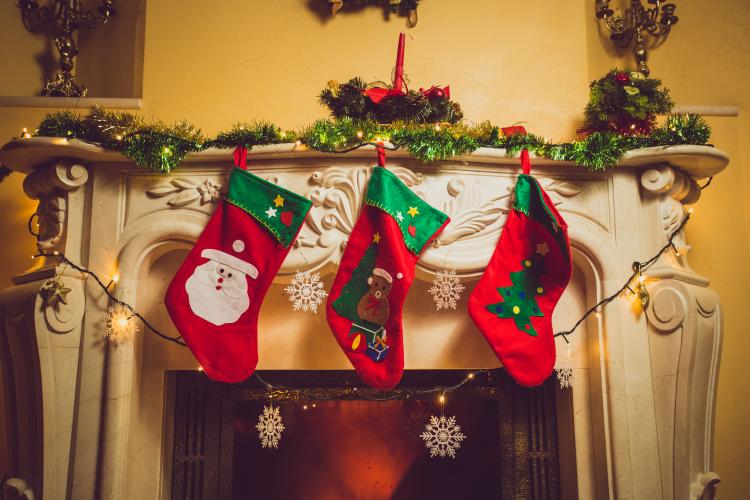 What Do People Do?
Christmas Eve is the last day for many people to shop and prepare for the Christmas celebrations and festive meals. Stores, particularly those selling food and gifts, are usually busy. Some families put up their Christmas tree and other seasonal decorations, although others may have done this as early as late November.
People may attend a church service, often called midnight mass, on Christmas Eve, even if they do not regularly attend church services. Traditionally, midnight masses started at midnight, as Christmas Eve becomes Christmas Day, but now often begin earlier in the evening. In addition, the Festival of Nine Lessons and Carols is broadcast on radio throughout the United Kingdom and across the world from Kings College Cambridge. This service consists of the same nine bible passages each year, with a selection of modern and ancient hymns.
Christingle services for children are usually associated with the four Sundays of Advent, but may also be held on Christmas Eve. During the service, each child is presented with a decorated orange, which represents the world. A piece of red ribbon is tied around the orange's circumference to represent the blood of Jesus and sweets or dried fruits are placed on four toothpicks poked into the orange. These represent the four seasons and the fruits of the Earth. A candle is inserted into the top of the orange to represent Jesus Christ.
Many families with children end Christmas Eve by hanging Christmas stocking up. These were traditionally socks, but are now often oversize sock-shaped sacks. Children hope that a mythical figure, called Father Christmas or Santa Claus, will visit the house during the night. He enters homes by climbing down the chimney and, if he thinks that the children have been well-behaved all year, fills the stockings with presents, gifts and sweets.
Public Life
December 24 is not a public holiday. However, schools are closed for the Christmas holidays and many people have a day off work or leave earlier than usual. Stores and post offices are generally very busy, but may close earlier than usual. Early in the day, many public transport systems run to their usual schedule, but they may have a reduced service or close down in the late afternoon or evening. There may be a lot of congestion on the roads, at major train and bus stations and airports. This is because many people travel to spend Christmas Day and Boxing Day with family or friends.

Background
In the United Kingdom, Christmas Eve is both the religious and secular start of the festive season at the end of the year. For Christians, the celebration of the birth of Jesus is an extremely important part of the festivities. However, celebrations of life and light around the winter solstice pre-date the introduction of Christianity to the British Isles by thousands of years. People lit fires that were kept burning day and night to 'tempt' the Sun back after the darkest part of the year and decorated their homes with leaves or branches from evergreen trees to symbolize everlasting life. These customs continue today as people put up Christmas trees and decorate their homes with small electric lights.
Symbols
A wide variety of things symbolize Christmas Eve. These include Christmas trees, including the decorations and lights that people hang on them, and other evergreens, such as holly, ivy and mistletoe, which are used to decorate homes and other buildings. Other symbols are: the Christmas stocking; and Father Christmas (or Santa Claus), who travels on a sleigh pulled by reindeer, to fill these stockings with gifts; as well as the glasses of sherry and mince pies that people leave out for Father Christmas.
Christmas Eve Observances
| Weekday | Date | Year | Name | Holiday Type | Where It is Observed |
| --- | --- | --- | --- | --- | --- |
| Fri | Dec 24 | 2010 | Christmas Eve | Observance | |
| Sat | Dec 24 | 2011 | Christmas Eve | Observance | |
| Mon | Dec 24 | 2012 | Christmas Eve | Observance | |
| Tue | Dec 24 | 2013 | Christmas Eve | Observance | |
| Wed | Dec 24 | 2014 | Christmas Eve | Observance | |
| Thu | Dec 24 | 2015 | Christmas Eve | Observance | |
| Sat | Dec 24 | 2016 | Christmas Eve | Observance | |
| Sun | Dec 24 | 2017 | Christmas Eve | Observance | |
| Mon | Dec 24 | 2018 | Christmas Eve | Observance | |
| Tue | Dec 24 | 2019 | Christmas Eve | Observance | |
| Thu | Dec 24 | 2020 | Christmas Eve | Observance | |
Quick Facts
Christmas Eve is the day before Christmas Day. It is not a public holiday in England, Scotland, Wales or Northern Ireland.
Christmas Eve 2018
Monday, December 24, 2018

Christmas Eve 2019
Tuesday, December 24, 2019

---
Name in other languages
| Name | Language |
| --- | --- |
| Christmas Eve | English |
| Julaften | Norwegian |
Related holidays
Other holidays in December 2018 in the United Kingdom
Fun Holiday on December 24, 2018