When Is Mother's Day, Really?
The date for Mother's Day is different around the world. Most countries celebrate in May, while some choose March or even December.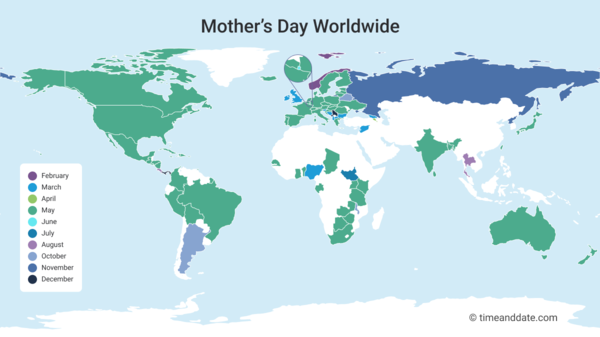 Difference between Mother's Day and Mothering Sunday
Mother's Day is an American holiday created in the 20th century, while Mothering Sunday is an old Christian holiday connected to fasting and Easter.
Mother's Day is celebrated on the second Sunday of May, while Mothering Sunday falls in March, exactly three weeks before Easter. Some countries, like the United Kingdom, kept the Christian date and celebrate Mother's Day in March. A slight majority of countries (56 of 104) adopted the modern date in May.
All Mother's Day holidays in our database
Mother's Day International
How many countries celebrate Mother's Day? Which month do most countries prefer? Here are some facts about the holidays celebrating motherhood around the world:
104 countries celebrate Mother's Day
77 countries celebrate in May, 13 in March, and 14 in another month
Over 200 million people have a day off*
Singular ("Mother's Day") wins over plural ("Mothers' Day") by 79 countries to 22
Different Dates Around the World
The earliest Mother's Day is celebrated in Norway, where it falls on the second Sunday of February. The last countries to honor mothers in the calendar year are Montenegro and Serbia, both in late December. Most other countries choose either May or March for their Mother's Day dates. Here are three examples from around the world:
March 19, 2023: Mothering Sunday (UK)
Between Ash Wednesday and Easter, Christians are supposed to fast. In the middle of this fasting period, on the fourth Sunday after Ash Wednesday, Christians celebrate Mothering Sunday.
Historically, the name did not refer to mothers but to the mother church—the church in which a Christian was baptized. On Mothering Sunday, people would return home to their mother church to congregate.
In the 20th century, it became popular to celebrate mothers on Mothering Sunday, such as Mother Mary and Mother Nature. Today, the celebration of Mother's Day in the UK is similar to the United States. Only the date remains to remind us of its Christian origins.
May 14, 2023: Mother's Day (USA)
The roots of today's Mother's Day lie in the peace movement during the American Civil War. Ann Reeves Jarvis was a Christian peace activist organizing "Mother's Day Work Clubs," but it was her daughter, Ann Jarvis, who pushed for a wider recognition of Mother's Day. In 1914, US President Woodrow Wilson designated the second Sunday of May as a national holiday to honor mothers.
August 12, 2023: Mother's Day (Thailand)
Queen Sirikit, the Queen Mother of Thailand, was born on August 12, 1932. People in Thailand celebrate Mother's Day on her birthday to honor the "mother of the nation." August 12 is a national holiday in Thailand. People get the day off; if August 12 is a Sunday, the holiday moves to the following Monday.
---
* 15 countries celebrate Mother's Day as a national or public holiday, where some or all businesses close. Their combined population adds up to about 200 million people.
Update on May 12, 2023: Added Mother's Day in Argentina to our database. Changed the numbers accordingly.