Australia & New Zealand end DST on April 6, 2014
People in New Zealand and parts of Australia will get an additional hour of sleep as the Daylight Saving Time (DST) period draws to a close on Sunday, April 6, 2014. Clocks in most areas will be set back by one hour at 3:00 a.m. (03:00) to 2:00 a.m. (02:00) local time.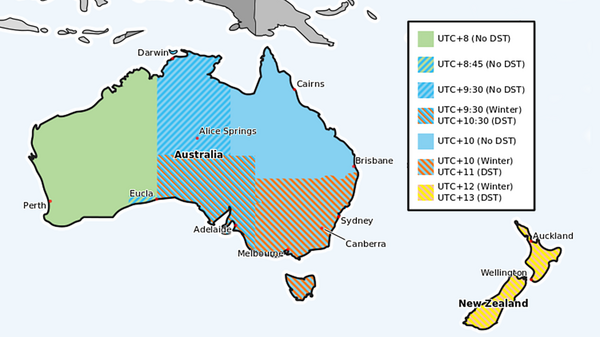 Upcoming DST switches around the world
Affected areas
Despite an ongoing debate about the introduction of seasonal time change in south-east Queensland, there have been no changes in DST legislation in Australia lately. DST is still only observed in the country's south-eastern states. Clocks will be turned back in the following areas:
About time in Lord Howe Island
All parts of New Zealand observe DST, including the 3 major cities:
Clocks on the Chatham Islands, which represent New Zealand's second time zone, will be turned back 1 hour from 3:45am (03:45) to 2:45am (02:45) local time.
View DST switches in a location of your choice
No DST switch in parts of Australia
The northern and western parts of Australia do not observe DST, so the clocks will not change in the following areas:
Do they observe DST at the South Pole?
When will DST start again?
Australia will switch back to DST on October 5, 2014 (see details). The Daylight Saving Time schedule there runs from the first Sunday in October to the first Sunday in April each year.
In New Zealand, clocks will be advanced to New Zealand Daylight Time (NZDT) on September 28, 2014 (see details). DST is observed there from the last Sunday in September to the first Sunday in April.