Brazil Starts DST Sunday, October 18, 2015
On Sunday, October 18, 2015, clocks in parts of Brazil will be set forward one hour from 00:00 (midnight) to 01:00 (1 am) local time as Daylight Saving Time (DST) starts.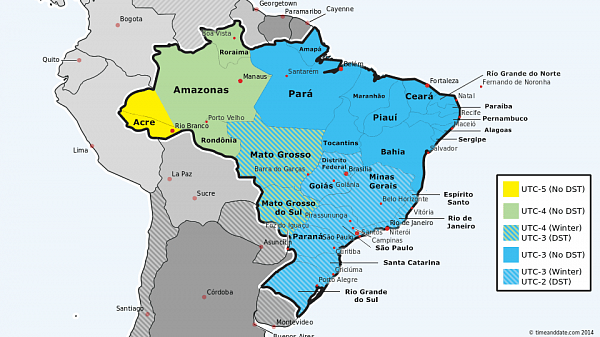 Ends in February 2016
DST ends again Sunday, February 21, 2016, 00:00 (midnight) as clocks are turned backward one hour to 23:00 (11 pm) local time.
Brazilian States With DST
The majority of Brazilian states will use Daylight Saving Time in 2015/2016:
Brazilian Regions Without DST
Several Brazilian regions remain on standard time all year and don't use DST at all. These include: Amazonas, Pernambuco, Bahia, Sergipe, Pará, Paraíba, Ceará, Amapá, Alagoas, Rondônia, Rio Grande do Norte, Piauí, Maranhão, Acre, Roraima, Tocantins, and some regions of Mato Grosso.
Four Time Zones in Brazil
Brazil has four time zones, stretching from UTC-2 to UTC-5 (standard time).