DST starts in USA & Canada Sunday, March 8, 2015
Most of the United States, Canada, and Mexico's northern border cities will begin Daylight Saving Time (DST) on Sunday, March 8, 2015. People in areas that observe DST will spring forward one hour from 2am (02:00) to 3am (03:00), local time.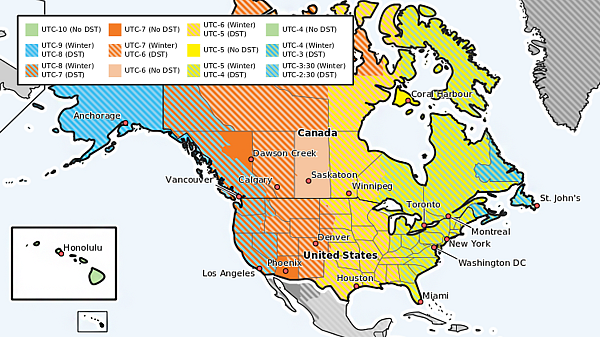 Europe starts DST Sunday, March 29, 2015
1 hour back or ahead?
Most Americans and Canadians set their clocks ahead 1 hour on the second Sunday of March and turn them back 1 hour on the first Sunday of November every year.
Areas that observe DST will fall back to standard time at 2:00 (2 am) local time on Sunday, November 1, 2015.
Meeting Planner:
Find the best time to meet across time zones
Areas with no DST
While most U.S. states and territories use DST, some areas will not change the time:
Areas with no DST in Canada include:
Recent Bills to Abolish DST
Lawmakers in several U.S. states, including Alaska, Washington, and Idaho, recently proposed to abolish seasonal time change. However, no change has so far come out of these proposals.
Mexican border cities follow U.S.
Mexico's northern border cities, like Juarez City (Ciudad Juárez), will follow the United States' DST schedule. However, most of Mexico, including the capital Mexico City, will set their clocks 1 hour forward on Sunday, April 5, 2015.
DST Switches in Other Countries on March 8, 2015
Some countries and territories will also start or end DST on the same date. Find out local times for the switch:
DST dates Worldwide — first half of 2015