Clock Changes in 27°28'S, 153°01'E, Australia in 1986
◢
Last change: 1992
1 hour Back
Mar 1, 1992, 3:00 am
No further time changes in 1986
in 27°28'S, 153°01'E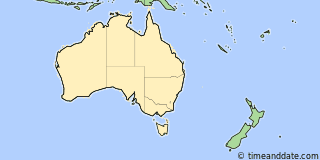 Daylight Saving Time in Other Years
DST changes do not necessarily occur on the same date every year.
Year
DST Start (Clock Forward)
DST End (Clock Backward)
1980 — 1988
DST not observed
1989
Sunday, October 29, 2:00 am
No DST End
All times are local for 27°28'S, 153°01'E.
Data for the years before 1970 is not available for 27°28'S, 153°01'E, however, we have earlier time zone history for Brisbane available.