Time Zone in Volgogradskaya Oblast', Russia
◢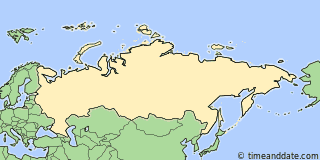 2019 Time Zones - Volgogradskaya Oblast'
Jan
Feb
Mar
Apr
May
Jun
Jul
Aug
Sep
Oct
Nov
Dec
The graph above shows that there is no clock change in Volgogradskaya Oblast' during 2019.
Time Changes in Volgogradskaya Oblast' Over the Years
Daylight Saving Time (DST) changes do not necessarily occur on the same date every year.
Year
Date & Time
Abbreviation
Time Change
Offset After
2018
Sun, Oct 28 at 2:00 am
MSK → VOLT
+1 hour (TZ change) | Probable date
UTC+4h
2019 — 2022
No changes, UTC +4 hours all of the period
* All times are local Volgogradskaya Oblast' time.
Data for the years before 1970 is not available for Volgogradskaya Oblast', however, we have earlier time zone history for Volgograd available.
More Information
Time Zone Tools

Volgogradskaya Oblast'
Russia
10:2349am
Sunday, October 20, 2019