| | |
| --- | --- |
| Country: | Brazil |
| Long Name: | Federative Republic of Brazil |
| Abbreviations: | BR, BRA |
| Capital: | Brasilia |
| Time Zones: | 4 |
| Dial Code: | +55 |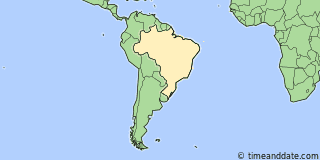 Time Zones Currently Being Used in Brazil
Four Brazil Time Zones
There are four standard time zones in Brazil. They are, from west to east: Acre Time (ACT), Amazon Time (AMT), Brasília Time (BRT), and Fernando de Noronha Time (FNT).
Deviations from BRT
Even though the time zones have designated names, time zones in Brazil are often referred to as deviations from Brasília Time (BRT):
Most People Live In BRT
Brasília Time (BRT) is the time zone used on the east coast of Brazil and is considered the main time zone in the country. Around 90% of Brazil's population lives in the BRT time zone. It covers 21 of Brazil's 27 states, including the metropolitan areas Rio de Janeiro and São Paulo.

Brazil