| | |
| --- | --- |
| Country: | China |
| Long Name: | People's Republic of China |
| Abbreviations: | CN, CHN |
| Capital: | Beijing |
| Time Zones: | 1 (Main Country) |
| Total Time Zones: | 2 (with dependencies) |
| Dial Code: | +86 |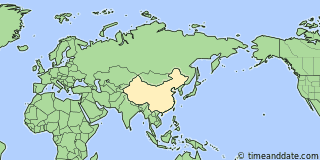 Time Zone Currently Being Used in China
Offset
Time Zone Abbreviation & Name
Example City
Current Time
UTC +8
CST
China Standard Time
Beijing

Fri

,

7:11:38 am
Only One Time Zone in China
China has one official time zone, China Standard Time (CST), which is 8 hours ahead of UTC. In China, the time zone is known as Beijing Time.
In Xinjiang, China's westernmost region, the Uyghur population unofficially uses a different local time known as Xinjiang Time or Ürümqi Time, which is 2 hours behind CST.
China observes China Standard Time all year. There are no Daylight Saving Time clock changes.
---
Time Zones Being Used in Dependencies of China
Offset
Time Zone Abbreviation & Name
Dependency
Type
Current Time
UTC +8
HKT
Hong Kong Time
Hong Kong
Special Administrative Region

Fri

,

7:11:38 am

CST
China Standard Time
Macau
Special Administrative Region

Fri

,

7:11:38 am

China