| | |
| --- | --- |
| Country: | India |
| Long Name: | Republic of India |
| Abbreviations: | IN, IND |
| Capital: | New Delhi |
| Time Zones: | 1 |
| Dial Code: | +91 |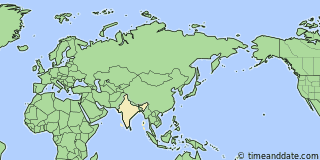 Time Zone Currently Being Used in India
Offset
Time Zone Abbreviation & Name
Example City
Current Time
UTC +5:30
IST
India Standard Time
New Delhi

Thu

,

8:33:58 am
One Time Zone in India
India has only one time zone. The country has officially observed India Standard Time (IST) since 1947. However, the UTC+5:30 offset has been used as the local standard time in India since 1906.
India is a large country that stretches almost 3000 kilometers (1864 miles) from west to east. It spans nearly 30 degrees longitude (68°7'E to 97°25'E). If the country were to base its time zones on mean solar time, it would have three time zones, but since it only has one, the Sun rises almost 90 minutes earlier in Dong in the far east than in Guar Mota in the west.
Tea Garden Time
Tea Garden Time is an informal time zone used in India's northeastern state Assam. There the clocks are unofficially set one hour ahead of IST (UTC+6:30). In this part of the country, sunrise can come as early as 4:00 (4 am) IST in the morning and sunset at 16:00 (4 pm) IST in the afternoon.
Tea Garden Time, translated as "Chai Bagan Time," was introduced by the British tea companies to increase daylight work hours and thus productivity and is still in use today.
Why Doesn't India Have Two Time Zones?
There are a few drawbacks of keeping the one time zone. As seen from the tea gardens, early sunrise causes loss of sleep and productivity in locations with less daylight hours, and early sunset can lead to higher energy consumption. But for now, it seems like the drawbacks of one time zone do not outweigh the benefits of two.
In 2018, the CSIR-National Physical Laboratory (CSIR-NPL) and the National Measurement Institute (NMI) of India proposed implementing two time zones in India: IST-I (UTC+5:30) and IST-II (UTC+6:30) in the northeast. The implementation has yet to be legally formalized.
India's Time Zone History
India had multiple time zones in the past. In 1802, British astronomer John Goldingham at the East India Company established time in Chennai as GMT+5:30.
In 1884 two time zones were used in India: Calcutta Time (UTC+5:53:28) and Bombay Time (UTC+4:51:20)—just over an hour apart. Eventually, in 1905, the meridian near Mirzapur (82°33'E) was picked as the standard time for the whole country. This time zone was declared India Standard Time (IST) in 1947, though Calcutta Time was used until 1948 and Bombay Time until 1955.
India observes India Standard Time all year. There are no Daylight Saving Time clock changes.

India