| | |
| --- | --- |
| Country: | Maldives |
| Long Name: | Republic of Maldives |
| Abbreviations: | MV, MDV |
| Capital: | Male |
| Time Zones: | 1 |
| Dial Code: | +960 |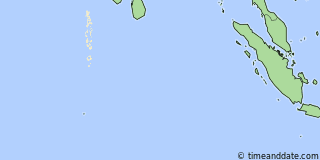 Time Zone Currently Being Used in Maldives
Offset
Time Zone Abbreviation & Name
Example City
Current Time
UTC +5
MVT
Maldives Time
Male

Sat

,

3:09:33 pm
How Many Time Zones Are There in the Maldives?
The Maldives only have 1 official time zone, Maldives Time (MHT), which is 5 hours ahead of Coordinated Universal Time (UTC).
Maldives observes Maldives Time all year. There are no Daylight Saving Time clock changes.
Resorts on Unofficial Time Zones
The Republic of Maldives is an archipelago of 1192 coral islands grouped in 26 atolls in the Indian Ocean about 417 miles (671 kilometers) southwest of Sri Lanka. The country relies heavily on tourism, and more than 100 of the islands are developed exclusively for tourism with one resort per island.
Some resorts have permanently added 30 minutes, 1 hour, or even 1.5 hours to Maldives Time to make the most out of the evening light. Be sure to check with your resort to find the current local time on the island.

Maldives
Saturday, November 26, 2022