| | |
| --- | --- |
| Country: | Morocco |
| Long Name: | Kingdom of Morocco |
| Abbreviations: | MA, MAR |
| Capital: | Rabat |
| Time Zones: | 1 |
| Dial Code: | +212 |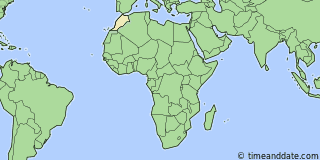 Time Zone Currently Being Used in Morocco
Offset
Time Zone Abbreviation & Name
Example City
Current Time
UTC +1
WEST
Western European Summer Time
Casablanca

Sun

,

3:21:34 pm
What Time Is It in Morocco?
Morocco is on permanent Daylight Saving Time (DST) most of the year, using the time zone Western European Summer Time (WEST).
However, for Ramadan, the clocks are turned back 1 hour from UTC+1 to UTC+0.
In practice, this means that sunset during Ramadan is 1 hour earlier than the rest of the year.
---
Time Zone Not Currently Being Observed in Morocco
Offset
Time Zone Abbreviation & Name
Commences
UTC +0
WET
Western European Time
Mar 10, 2024
The above time zone is used during other parts of the year. It will become active again after the next clock change as Daylight Saving Time begins or ends.

Morocco