Tuesday, January 31, 2023
* Most of New Zealand
Fullscreen
| | |
| --- | --- |
| Country: | New Zealand |
| Abbreviations: | NZ, NZL |
| Other Name: | Aotearoa |
| Capital: | Wellington |
| Time Zones: | 2 (Main Country) |
| Total Time Zones: | 3 (with dependencies) |
| Dial Code: | +64 |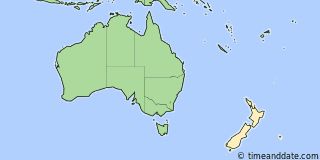 Time Zones Currently Being Used in New Zealand
Offset
Time Zone Abbreviation & Name
Example City
Current Time
UTC +13
NZDT
New Zealand Daylight Time
Auckland

Tue

,

6:12:12 pm

UTC +13:45
CHADT
Chatham Island Daylight Time
Chatham Islands

Tue

,

6:57:12 pm
How Many Time Zones Are There in NZ?
New Zealand's two main islands, North Island and South Island, both lie in the same time zone. The Chatham Islands, located about 860 kilometers (534 miles) east of Christchurch, have a separate time zone, which is 45 minutes ahead of mainland New Zealand.
Tokelau, an archipelago in the Pacific and a dependency of New Zealand, brings the total to three time zones.
Because Tokelau does not use Daylight Saving Time (DST), there are only two corresponding DST time zones.
---
Time Zones Not Currently Being Observed in New Zealand
The above time zones are used during other parts of the year. They will become active again after the next clock change as Daylight Saving Time begins or ends.
In the country's mainland, New Zealand Standard Time (NZST) is used as standard time, while New Zealand Daylight Time (NZDT) is observed during DST.
The Chatham Islands use Chatham Island Standard Time (CHAST) as standard time, while Chatham Island Daylight Time (CHADT) is observed during the DST period.
---
Time Zones Being Used in Dependencies of New Zealand
Offset
Time Zone Abbreviation & Name
Dependency
Type
Current Time
UTC +13
TKT
Tokelau Time
Tokelau
Territory

Tue

,

6:12:12 pm
The New Zealand dependency of Tokelau has no Daylight Saving Time (DST).
History of Time Zones in NZ
New Zealand was one of the first countries in the world to officially adopt a nationally observed standard time. New Zealand Mean Time, adopted on November 2, 1868, was 11 hours and 30 minutes ahead of Greenwich Mean Time (GMT).
In 1941, during World War II, clocks were set forward 30 minutes, increasing New Zealand's offset from GMT to 12 hours. The time change was made permanent by the Standard Time Act 1945.
In 1974, two years after Coordinated Universal Time (UTC) was set as the international time standard, New Zealand Standard Time (NZST) was officially defined as UTC+12 in the Time Act 1974.

New Zealand
Tuesday, January 31, 2023
Time Zone News
More Information
Time Zone Map