Good Friday in Mexico
Quick Facts
Mexicans observe Good Friday as the day Jesus died on the cross about 2000 years ago.
Local names
| Name | Language |
| --- | --- |
| Good Friday | English |
| Viernes Santo | Spanish |
| Karfreitag | German |
Good Friday 2014
Friday, April 18, 2014
Good Friday 2015
Friday, April 3, 2015
List of dates for other years
Good Friday (Viernes Santo) is a bank holiday in Mexico prior to Holy Saturday and Easter Sunday. Christians remember Jesus' crucifixion and death on this day.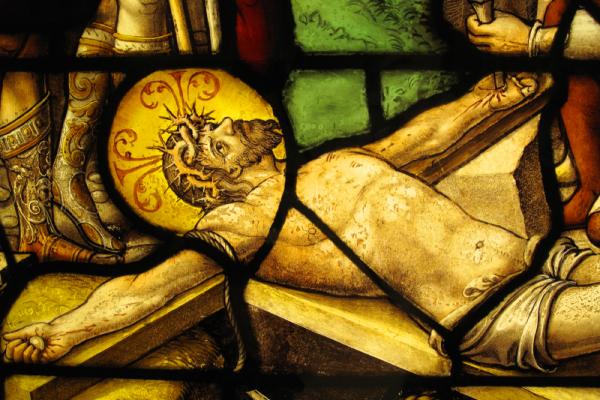 ©iStockphoto.com/TonyBaggett
Commemorate Good Friday
Crowds of people take part in processions in a number of Mexican towns and cities. The processions include actors carrying large crosses to reenact Jesus' final moments before his death. Good Friday is a solemn day when churches are often draped in dark colors.
Many people travel on vacation during the Holy Week long weekend so tourist destinations, particularly along the coast of Mexico, can be quite busy.
What's open or closed?
Most banks and schools are closed in Mexico on Good Friday. Traffic and public transport may be stalled in streets where there are Good Friday processions in Mexico.
About Good Friday
Roman Catholicism is the predominant religion in Mexico, so Good Friday is part of the Holy Week (Semana Santa) events across the country and within the church worldwide.
About Good Friday in other countries
Read more about
Good Friday
.
Good Friday Observances
| Weekday | Date | Year | Name | Holiday type |
| --- | --- | --- | --- | --- |
| Fri | Apr 13 | 1990 | Good Friday | Bank holiday |
| Fri | Mar 29 | 1991 | Good Friday | Bank holiday |
| Fri | Apr 17 | 1992 | Good Friday | Bank holiday |
| Fri | Apr 9 | 1993 | Good Friday | Bank holiday |
| Fri | Apr 1 | 1994 | Good Friday | Bank holiday |
| Fri | Apr 14 | 1995 | Good Friday | Bank holiday |
| Fri | Apr 5 | 1996 | Good Friday | Bank holiday |
| Fri | Mar 28 | 1997 | Good Friday | Bank holiday |
| Fri | Apr 10 | 1998 | Good Friday | Bank holiday |
| Fri | Apr 2 | 1999 | Good Friday | Bank holiday |
| Fri | Apr 21 | 2000 | Good Friday | Bank holiday |
| Fri | Apr 13 | 2001 | Good Friday | Bank holiday |
| Fri | Mar 29 | 2002 | Good Friday | Bank holiday |
| Fri | Apr 18 | 2003 | Good Friday | Bank holiday |
| Fri | Apr 9 | 2004 | Good Friday | Bank holiday |
| Fri | Mar 25 | 2005 | Good Friday | Bank holiday |
| Fri | Apr 14 | 2006 | Good Friday | Bank holiday |
| Fri | Apr 6 | 2007 | Good Friday | Bank holiday |
| Fri | Mar 21 | 2008 | Good Friday | Bank holiday |
| Fri | Apr 10 | 2009 | Good Friday | Bank holiday |
| Fri | Apr 2 | 2010 | Good Friday | Bank holiday |
| Fri | Apr 22 | 2011 | Good Friday | Bank holiday |
| Fri | Apr 6 | 2012 | Good Friday | Bank holiday |
| Fri | Mar 29 | 2013 | Good Friday | Bank holiday |
| Fri | Apr 18 | 2014 | Good Friday | Bank holiday |
| Fri | Apr 3 | 2015 | Good Friday | Bank holiday |
| Fri | Mar 25 | 2016 | Good Friday | Bank holiday |
| Fri | Apr 14 | 2017 | Good Friday | Bank holiday |
| Fri | Mar 30 | 2018 | Good Friday | Bank holiday |
| Fri | Apr 19 | 2019 | Good Friday | Bank holiday |
| Fri | Apr 10 | 2020 | Good Friday | Bank holiday |
Related holidays
Other holidays in April 2014 in Mexico
Other calendars
Related links