Palm Sunday in Mexico
Quick Facts
Christians in Mexico celebrate Palm Sunday, which honors Jesus Christ's triumphal entry into Jerusalem.
Local names
| Name | Language |
| --- | --- |
| Palm Sunday | English |
| Domingo de Ramos | Spanish |
| Palmsonntag | German |
Alternative name
Domingo de Palmas
Palm Sunday 2014
Sunday, April 13, 2014
Palm Sunday 2015
Sunday, March 29, 2015
List of dates for other years
Palm Sunday (Domingo de Ramos) is held 7 days before Easter Sunday and marks the start of Holy Week (Semana Santa) in Mexico. Churches are decorated with palms to celebrate the story of Jesus entering Jerusalem on a donkey.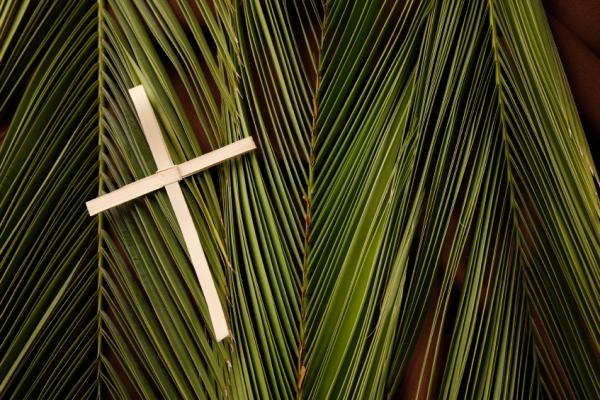 ©iStockphoto.com/duckycards
Celebrate Palm Sunday
Churches throughout Mexico are beautifully decorated for special services, where people receive palms. The main attraction in some towns and villages is a procession that reenacts the story of Jesus arriving on a donkey in Jerusalem.
Public life
Palm Sunday is a religious observance in Mexico. It is on a Sunday so schools, banks and many businesses are closed.
About Palm Sunday
Roman Catholicism is the predominant religion in Mexico. Palm Sunday is part of the Holy Week events across the country and within the church worldwide.
About Palm Sunday in other countries
Read more about
Palm Sunday
.
Palm Sunday Observances
| Weekday | Date | Year | Name | Holiday type |
| --- | --- | --- | --- | --- |
| Sun | Apr 8 | 1990 | Palm Sunday | Observance, Christian |
| Sun | Mar 24 | 1991 | Palm Sunday | Observance, Christian |
| Sun | Apr 12 | 1992 | Palm Sunday | Observance, Christian |
| Sun | Apr 4 | 1993 | Palm Sunday | Observance, Christian |
| Sun | Mar 27 | 1994 | Palm Sunday | Observance, Christian |
| Sun | Apr 9 | 1995 | Palm Sunday | Observance, Christian |
| Sun | Mar 31 | 1996 | Palm Sunday | Observance, Christian |
| Sun | Mar 23 | 1997 | Palm Sunday | Observance, Christian |
| Sun | Apr 5 | 1998 | Palm Sunday | Observance, Christian |
| Sun | Mar 28 | 1999 | Palm Sunday | Observance, Christian |
| Sun | Apr 16 | 2000 | Palm Sunday | Observance, Christian |
| Sun | Apr 8 | 2001 | Palm Sunday | Observance, Christian |
| Sun | Mar 24 | 2002 | Palm Sunday | Observance, Christian |
| Sun | Apr 13 | 2003 | Palm Sunday | Observance, Christian |
| Sun | Apr 4 | 2004 | Palm Sunday | Observance, Christian |
| Sun | Mar 20 | 2005 | Palm Sunday | Observance, Christian |
| Sun | Apr 9 | 2006 | Palm Sunday | Observance, Christian |
| Sun | Apr 1 | 2007 | Palm Sunday | Observance, Christian |
| Sun | Mar 16 | 2008 | Palm Sunday | Observance, Christian |
| Sun | Apr 5 | 2009 | Palm Sunday | Observance, Christian |
| Sun | Mar 28 | 2010 | Palm Sunday | Observance, Christian |
| Sun | Apr 17 | 2011 | Palm Sunday | Observance, Christian |
| Sun | Apr 1 | 2012 | Palm Sunday | Observance, Christian |
| Sun | Mar 24 | 2013 | Palm Sunday | Observance, Christian |
| Sun | Apr 13 | 2014 | Palm Sunday | Observance, Christian |
| Sun | Mar 29 | 2015 | Palm Sunday | Observance, Christian |
| Sun | Mar 20 | 2016 | Palm Sunday | Observance, Christian |
| Sun | Apr 9 | 2017 | Palm Sunday | Observance, Christian |
| Sun | Mar 25 | 2018 | Palm Sunday | Observance, Christian |
| Sun | Apr 14 | 2019 | Palm Sunday | Observance, Christian |
| Sun | Apr 5 | 2020 | Palm Sunday | Observance, Christian |
Related holiday
Other holidays in April 2014 in Mexico
Other calendars
Related links