August: Sturgeon Moon
The Full Moon in August is named after North America's largest fish, the sturgeon. Other names for this Full Moon include Grain Moon, Corn Moon, Lynx Moon, and Lightning Moon.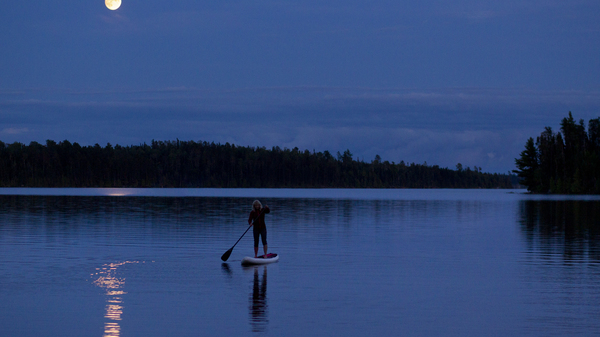 Sturgeon Moon 2023
Aug 1, 2023 at 2:31 pm
Sturgeon Moon 2024
Aug 19, 2024 at 2:25 pm
Times for the Sturgeon Moon vary by time zone. Times and dates are based on the local time in Washington DC. Change location
Named After a Big Old Fish
The Full Moon in August is called Sturgeon Moon because of the large number of sturgeon fish that were found in the Great Lakes in North America this time of year.
The most common sturgeon in the Great Lakes is the lake sturgeon—males have a life span of 55 years, while females can live up to 150 years! It is also the American continent's largest freshwater fish and can grow to over two meters long (6 feet) and weigh around 90 kilos (200 pounds).
Lake sturgeon was essential for Native American tribes living in the area and is the oldest and largest native species in the Great Lakes—the largest surface freshwater system in the world.
Sleep, crime, and menstruation: how Full Moons affect humans
Start of Harvesting Season
Inspired by the harvest and abundance of crops at the start of the harvesting season in the Northern Hemisphere, an English name for the August Full Moon is Corn Moon. The Anglo-Saxons also called it the Grain Moon.
The Celts called it Lynx Moon and Dispute Moon, pointing to the delicate balance of nature and harvest. Another English name is Lightning Moon, after Northern Europe's more frequent thunder and lightning storms in late summer.
Is the Moon upside-down in the other hemisphere?
12 Full Moon Names
The Full Moon has been integral to tracking the change of months and seasons since ancient times.
Today, we use many of these ancient month names as Full Moon names, and many of them come from the Colonial Americans adopting Native American names into their calendars.
Although the most commonly used Full Moon names are English interpretations of Native American names, some are also Celtic, Anglo-Saxon, medieval English, and Neo-Pagan.