November 25, 2011 — Partial Solar Eclipse
The last partial solar eclipse of 2011 occurs on November 25, 2011. This eclipse is the last of the four partial solar eclipses in 2011 that occur throughout the year.
Was this Partial Solar Eclipse visible in Washington DC?
---
Path of the Eclipse Shadow
Regions that saw, at least, a partial eclipse: South in Australia, South in Africa, Pacific, Atlantic, Indian Ocean, Antarctica.
Eclipse Shadow Path
Portion of Sun covered by the Moon (Eclipse obscuration)
The dark areas symbolize night and twilight.
Where the Eclipse Was Seen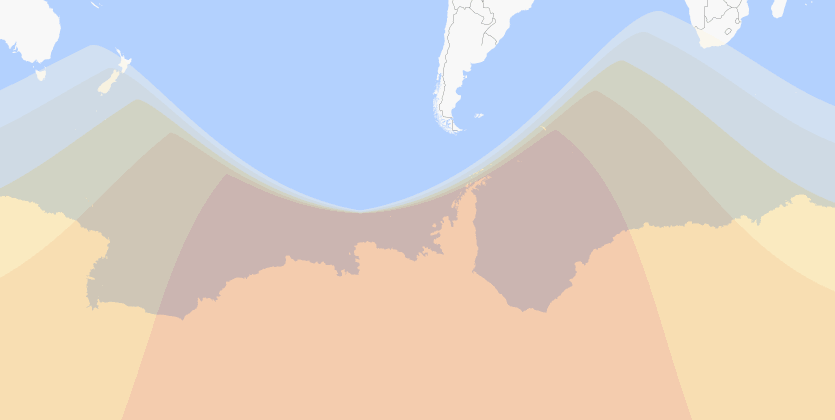 Try our new interactive eclipse map
Zoom in and search for accurate eclipse times and visualizations for any location.
The November 25 partial solar eclipse is only visible from a limited area in the southern hemisphere. The lunar penumbra is centered near Antarctica, while its outermost edge passes over portions of New Zealand's South Island, Tasmania, and the southernmost part of South Africa.
Was this eclipse visible in Washington DC?
When the Eclipse Happened Worldwide — Timeline
The eclipse started at one location and ended at another. The times below are actual times (in UTC) when the eclipse occurred.
| Event | UTC Time | Time in Washington DC* |
| --- | --- | --- |
| First location to see the partial eclipse begin | Nov 25 at 04:23 | Nov 24 at 11:23 pm |
| Maximum Eclipse | Nov 25 at 06:20 | Nov 25 at 1:20 am |
| Last location to see the partial eclipse end | Nov 25 at 08:17 | Nov 25 at 3:17 am |
* Local times shown do not refer to when the eclipse could be observed from Washington DC. Instead, they indicate the times when the eclipse began, was at its max, and ended, somewhere else on Earth. The corresponding local times are useful if you wanted to view the eclipse via a live webcam.
Eclipses visible in Washington DC.