| | |
| --- | --- |
| Country: | Bolivia |
| Long Name: | Republic of Bolivia |
| Abbreviations: | BO, BOL |
| Capital: | Sucre |
| Administrative Capital: | La Paz |
| Time Zones: | 1 |
| Dial Code: | +591 |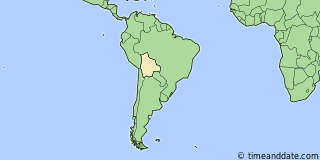 Mar 21, 1932 - Daylight Saving Time Ended
When local daylight time was about to reach
Monday, March 21, 1932, 12:00:00 midnight clocks were turned backward 0:27:24 hours to
Sunday, March 20, 1932, 11:32:36 pm local standard time instead.
Also called Fall Back and Winter Time.
Daylight Saving Time History in Bolivia
Bolivia last observed Daylight Saving Time in 1932.
Bolivia has observed DST for 2 years between 1931 and 1932.