| | |
| --- | --- |
| Country: | Sweden |
| Long Name: | Kingdom of Sweden |
| Abbreviations: | SE, SWE |
| Capital: | Stockholm |
| Time Zones: | 1 |
| Dial Code: | +46 |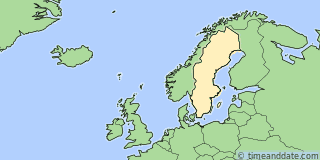 Time Zone Currently Being Used in Sweden
Offset
Time Zone Abbreviation & Name
Example City
Current Time
UTC +1
CET
Central European Time
Stockholm

Mon

,

2:37:20 pm
How Many Time Zones Are There in Sweden?
Sweden has only one time zone. The country observes Central European Time (CET) as standard time. When Daylight Saving Time (DST) is in force, Swedish clocks run on Central European Summer Time (CEST).
---
Time Zone Not Currently Being Observed in Sweden
Offset
Time Zone Abbreviation & Name
Commences
UTC +2
CEST
Central European Summer Time
Mar 31, 2024
The above time zone is used during other parts of the year. It will become active again after the next clock change as Daylight Saving Time begins or ends.
Time Zone History of Sweden
Sweden standardized its time in 1879. Until then, each location had used solar mean time, based on its longitude.
In 1879, the solar time 3 degrees west of the Observatory of Stockholm was defined as the national standard time. It was 1 hour and 14 seconds ahead of Greenwich Mean Time (GMT), then the world's time standard.
To get in line with the global standard, Sweden turned its clocks back by 14 seconds in 1900. The local time was now exactly 1 hour ahead of GMT. The country has been using the same time zone ever since.

Sweden
Time Zone News
More Information
Time Zone Map