How to use the timeanddate.com World Clock App for Windows 8 / 10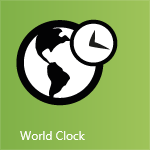 Get the free World Clock App for Windows 8 / 10 to find out the precise local time, time zone and offset from Coordinated Universal Time (UTC), Daylight Saving Time (DST) dates, sunrise and sunset times, and country flag information for thousands of cities around the world.
Quick Help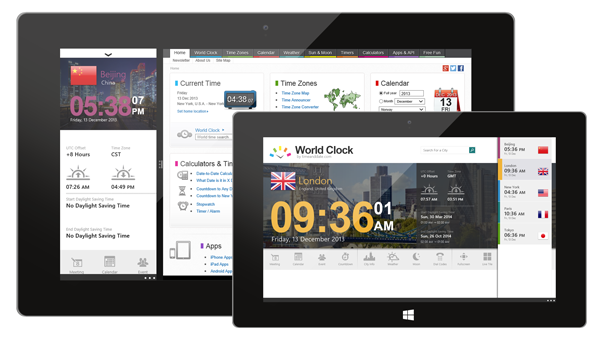 What does the app show?
The compact view
On the right-hand side, the app provides a compact view of cities with current time, date, and national flag. The list is scrollable. Five cities are shown by default.
Click or tap on one of the cities to view more detailed information about it. The selected city will be marked with an increased color marker, the city's name will be displayed at the top of the screen, and the current time in the selected location will be displayed in large font in the center of the screen.
The detailed view
More information about the selected city can be found besides the large time display, including:
Adding and removing cities from the compact list
To add a city to the compact view on the right-hand side use the search box at the top of the application, type in a city name in the search field, and select a location in the search results.
To remove a city from the list, swipe across or right-click on the city. Then click or tap on "Delete".
Using the "Action" menu
Click or tap on one of the icons under the clock to use one of the handy tools on timeanddate.com. The selected city will be entered as default location where applicable.
Opening the local time in fullscreen
To view a fullscreen version of the current local time in the selected location, tap on "Fullscreen" located in the "action bar". To leave the fullscreen view, click or tap on the left-arrow button next to the city name.
"Snap to side"
Use the Snap to side option to confine the list of cities to the left edge of the screen and free up the rest for other uses. Simply drag/swipe from the top of the screen all the way to the left edge. To return to the standard view, drag the right edge of the reduced window across the screen.
Related Links
Related Time Zone Tools