Lei Day in the United States
Lei day on May 1 celebrates Hawaiian culture, also known as the "Aloha spirit," represented by the lei, the traditional flower garland or wreath which people wear as a necklace or on their heads.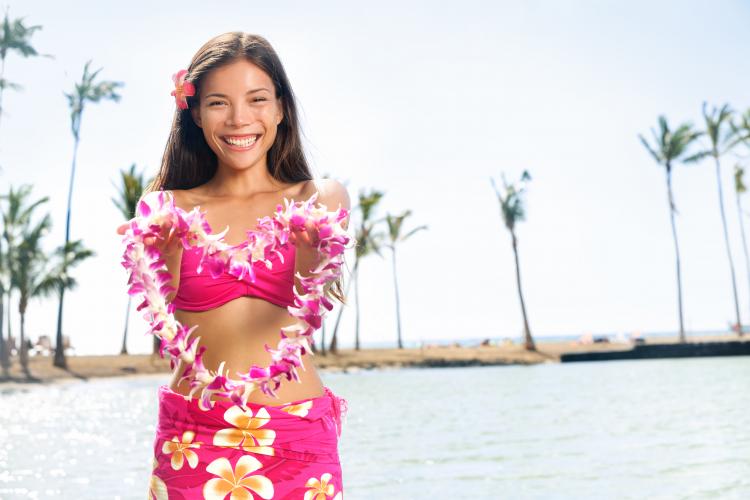 What Do People Do?
Lei Day is celebrated on all the islands of Hawai'i, with music and hula shows, along with lei and craft exhibitions, lessons in Hawaiian song, hula dancing, lei making, lauhala weaving, and more.
A lot of people dress in "Aloha wear," usually brightly colored shirts and dresses with large floral prints and, they wear fresh, fragrant, and colorful flower leis.
On May 2, at the Mauna Ala Royal Mausoleum in Nu'uanu, leis from the festivities are placed on the tombs of ali'i (Hawaiian royalty) and also on King Lunalilo's tomb at Kawaihao Church in Honolulu.
The custom of wearing leis was introduced to native Hawaiians by Polynesians who visited the islands, and each of the 8 main Hawaiian Islands has a unique flower which is used in the Lei Day celebrations.
On Hawai'i, also called the Big Island, they make leis from the red pua lehua blossoms from the 'ōhi'a tree. Maui's flower is the pink lokelani, also known as the Maui rose or pink cottage rose. On the island of O'ahu, the lei flower is the golden yellow puailima, or ilima for short, while on Moloka'i, they craft their leis from a green flower named kukui.
The smaller island of Lāna'i is represented by a yellow grassy flower called kauna'o, while on Kahoolawe they wear leis made from hinahina which has a silver-gray color. Kauai's lei flower is the green mokihana berry, also called alani or alani kuahiwi.
On the island of Ni'ihau, they don't use flowers in their leis, but make them from sea shells called pupu.
Public Life
Lei day is not an official state holiday, so regular business hours apply. However, official Lei Day festivities go on all day throughout the state. A few official events also take place on the following day, May 2.
Background
The first Lei Day celebration was at the Bank of Hawai'i in 1927. The year after, Honolulu Star-Bulletin writer Don Blanding suggested in a newspaper article that the day ought to be an official holiday, and in 1929 it was adopted as an official celebration.
His co-worker, columnist Grace Tower Warren, suggested May 1 as the date of the holiday and she also coined the much-used phrase "May Day is Lei Day in Hawai'i."
Lei Day Observances
| Weekday | Date | Year | Name | Holiday Type | Where It is Observed |
| --- | --- | --- | --- | --- | --- |
| Sat | May 1 | 2010 | Lei Day | Local observance | Hawaii |
| Sun | May 1 | 2011 | Lei Day | Local observance | Hawaii |
| Tue | May 1 | 2012 | Lei Day | Local observance | Hawaii |
| Wed | May 1 | 2013 | Lei Day | Local observance | Hawaii |
| Thu | May 1 | 2014 | Lei Day | Local observance | Hawaii |
| Fri | May 1 | 2015 | Lei Day | Local observance | Hawaii |
| Sun | May 1 | 2016 | Lei Day | Local observance | Hawaii |
| Mon | May 1 | 2017 | Lei Day | Local observance | Hawaii |
| Tue | May 1 | 2018 | Lei Day | Local observance | Hawaii |
| Wed | May 1 | 2019 | Lei Day | Local observance | Hawaii |
| Fri | May 1 | 2020 | Lei Day | Local observance | Hawaii |
Quick Facts
May Day is Lei Day in Hawai'i, celebrating Hawaiian culture or the "Aloha spirit."
Lei Day 2018
Tuesday, May 1, 2018 (local in Hawaii)

Lei Day 2019
Wednesday, May 1, 2019 (local in Hawaii)

---
Name in other languages
| Name | Language |
| --- | --- |
| Lei Day | English |
| Día del Lei | Spanish |
| יום לי | Hebrew |
| يوم الكذب | Arabic |
| 레이 데이 | Korean |
| Lei-dagen | Norwegian |
| Lei Tag | German |
Other holidays in May 2019 in the United States
Fun Holiday on May 1, 2019