Highlights: May 2022 Lunar Eclipse
From moonrise in western North America to a spectacular moonset in Morocco, timeanddate broadcast live pictures from around the world.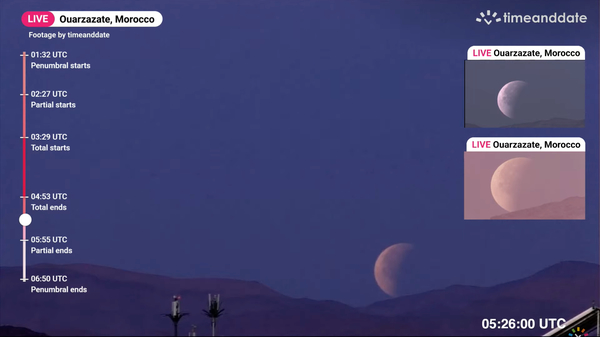 Large areas of North America enjoyed a prime-time Sunday-evening lunar eclipse.
This was the first of two total lunar eclipses this year. There will be another Blood Moon in November 2022.
Total Lunar Eclipse: November 7–8, 2022
Timelapse of the May 2022 Lunar Eclipse
Streamed LIVE from Morocco
The total lunar eclipse on May 15–16 was also visible across South America, and parts of Europe and Africa. The event was streamed live on timeanddate, with near-perfect weather conditions at most of our feed locations.
Our CEO Steffen Thorsen, together with Mathew Gundersen, took our mobile observatory to the edge of the Sahara desert in Ouarzazate, Morocco. They captured a spell-binding moonset toward the end of the final partial phase of the eclipse.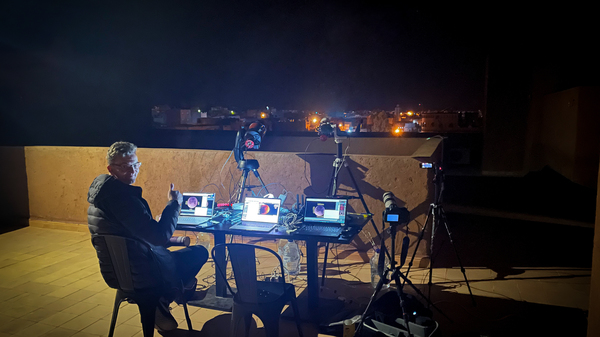 Moonrise to Moonset
Earlier in the evening, we caught moonrise from our eclipse partners in California and Arizona: Dave Decker and Gary Hawkins from the San Diego Astronomy Association; and Jim Knoll and Rick Paul of the Tucson Amateur Astronomy Association.
Weather conditions in the eastern half of North America were less favorable. Our streaming partners in Ontario—Colin Durocher and Olathe Macintyre of RASC-Sudbury Centre—and Kat Troche—from the Amateur Astronomers Association in New York—battled against the clouds all night.
We also had beautiful images of the eclipse from the Southern Hemisphere: Thomas Puzia and his team from the Pontificia Universidad Católica de Chile brought us the view from a mountaintop near Santiago in Chile.