Europe Starts Daylight Saving on March 27, 2011
Many countries in Europe will move their clocks forward at 1am UTC/GMT time on Sunday, March 27, 2011.
Update
Turkey will move their clocks forward a day later than the rest of Europe in 2011 because of a nationwide exam scheduled to take place on Sunday, March 27. Daylight saving time (DST) in Turkey will start at 3am (03:00) local time on Monday, March 28, 2011. Turkey is scheduled to end DST on Sunday, October 30, 2011.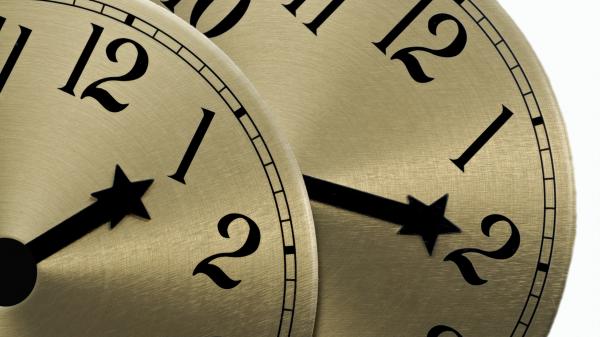 The clocks in most of Europe and the United Kingdom (UK) will move forward at 1am (01:00) Coordinated Universal Time (UTC) on Sunday, March 27, 2011 in observance of daylight saving time. Not all European countries will turn the clocks forward at the same time so check the Daylight Saving Time Dates for 2011 for many countries in Europe.
This article also takes a brief look at recent proposals and discussions regarding time zones or DST changes in places such as Russia and the UK.
Synchronized Daylight Saving Schedule in Europe
There is an annual synchronized daylight saving time schedule that most of Europe follows which starts on the last Sunday of March and ends on the last Sunday of October. According to this schedule, most countries in Europe have the following DST schedule:
DST annually starts at 1am (01:00) UTC on the last Sunday of March.
DST ends at 1am (01:00) UTC on the last Sunday of October each year.
The European Union (EU) definitively adopted the last Sundays of March and October to be the start and end dates of daylight saving time among EU countries. Iceland does not observe DST and remains on UTC/GMT all year.
More detail about Europe's time zones and DST schedule, as well as a brief history of DST in Europe can be found on our website.
More Time Changes to Occur in Russia
Russian President Dmitry Medvedev has made major time zone changes in 2010 and hopes to continue to make time zone and DST changes in 2011. Russia abolished the time zones of four Russian regions on March 28, 2010, which reduced the number of time zones in Russia from 11 to 9.
During this time zone change in 2010, the Kamchatka region did not observe daylight saving time (DST) so that it can cut its time difference with Moscow from nine to eight hours. This led to darker winters and an increase in electric energy consumption in schools and other institutions for that region. However, the Kamchatka region will observe DST in 2011.
Future plans for Russia's time zone reform include the possibility of eliminating daylight saving time in Russia, as well as the proposal to move Russia to the International System of Time Zones.
Russian president Dmitry Medvedev announced in February 2011 that Russia will remain on daylight saving time all year. Russia will no longer switch back to standard time as it had done so in the past on the last Sunday of October each year.
The UK's Daylight Saving Bill 2010–11
The Private Member's Bill that would keep the United Kingdom on Western European Summer Time (WEST) all year received an initial vote in the House of Commons in December 2010. The bill suggests that the clocks will go forward by one hour both during DST and in the non-DST period so that the UK would be on UTC+1 during the non-DST period and on UTC+2 during DST.
The concept of extending BST for the entire year has been around for years. It is important to note that the UK is not on Greenwich Mean Time (GMT) but on BST when it observes daylight saving time.
Note: Any mention of summer and winter in this article refers to the seasons in the northern hemisphere.