Last change: 1985
Oct 15, 1985, 12:00 midnight
| | |
| --- | --- |
| Country: | South Sudan |
| Long Name: | Republic of South Sudan |
| Abbreviations: | SS, SSD |
| Capital: | Juba |
| Time Zones: | 1 |
| Dial Code: | +211 |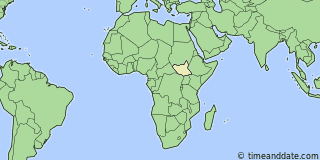 Feb 1, 2021 - Time Zone Change (EAT → CAT)
When local standard time is about to reach
Monday, February 1, 2021, 12:00:00 midnight clocks are turned backward 1 hour to
Sunday, January 31, 2021, 11:00:00 pm local standard time instead.
Sunrise and sunset will be about 1 hour earlier on Feb 1, 2021 than the day before. There will be more light in the morning.
More info:
New Time Zone in South Sudan

Note that the above information is preliminary: This is based on news, not official information. The date might be updated or changed once we have reliable information.
Daylight Saving Time History in South Sudan
South Sudan last observed Daylight Saving Time in 1985.